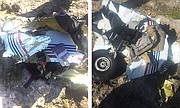 By RASHAD ROLLE
Tribune Staff Reporter
rrolle@tribunemedia.net
FOLLOWING the fatal plane crash off Andros last month, the Bahamas Civil Aviation Authority is pledging an unprecedented effort to clamp down on illegal charter operations by embracing technology, involving law enforcement and increasing surveillance to identify and prosecute law-breakers in the aviation industry.
The pledge of BCAA Director General Captain Charles Beneby came during a press conference yesterday where he and the chief investigator of aircraft accidents, Delvin Major, also revealed that weather could have played a role in the Piper Aztec crash that killed six people two weeks ago.
Mr Beneby said the BCAA has engaged police, customs, immigration and airport authority officials, among others, to "draw a tighter net and a tighter noose around the practice of hacking."
Licence
He stressed it is illegal for a pilot to fly for hire on a private licence. The pilot of the ill-fated plane did not have a commercial licence.
"Any attempt by a member of the public to engage such services makes that person complicit in an illegal act," he said.
"This is a warning to all persons that are engaged in such activities, now is the time to stop," he added. "We've talked about this before my time. We won't talk about it anymore."
For his part, Mr Major described the weather at the time of the plane crash two weeks ago as "marginal" or adverse.
He said someone like the pilot, Darren Clarke, could have been challenged flying in such weather because he lacked multi-engine instrument ratings, meaning he was not certified to navigate in non-clear visual conditions.
Although the law already allows "hackers" to be fined as much as $10,000 or be imprisoned up to two years for their illegal behaviour, Mr Beneby confirmed no one has ever been convicted for such actions.
"Unfortunately, the practice of hacking has been around for a lot longer than I would care to say," he said.
"It is now our charge at the BCAA to clamp down and to eliminate any possibility of such an occurrence.
"We will crack down on illegal operators, whether they be private, whether they be commercial, anyone that is found not to be in conformance with the regulations will suffer the consequences. It is extremely, extremely difficult to imagine what those persons on that aircraft would have felt on that faithful day.
"I believe that I have a moral obligation to reduce such occurrences and to eventually eliminate and stop the practice. The Safety Oversight Department (SOD) is now charged with increasing its surveillance of the general aviation area.
"We will introduce new video capture capabilities; my team members will be on the ramp every day, from early morning until night. If an operator is engaged in that practice and we have strong information that they are, they will be caught.
"The law allows me the authority to join with other government agencies to find, to seize aircraft and even to imprison persons engaged in such practices. We are also reviewing current regulations to strengthen our ability to effectively manage this very vexing problem. I recognise also that the systems that were in place previously that might not have been conducive to persons who should want to come forward and be regularised, we are revising those regulations now to make the process easier for those persons that are minded to come within the requirements of the law. Anyone that is not so minded would again suffer the consequences."
Video
Mr Beneby explained the proposed video capture capabilities includes CCTVs that will be erected in general aviation areas to "enhance security capabilities."
He said officials will also log the registration numbers of aircraft and coordinate with Air Traffic Control to determine their movements.
The patterns of movement could lead authorities to suspect a private pilot is flying for commercial purposes.
Sky Bahamas CEO Randy Butler has told The Tribune as many as 28 hackers exist. He has criticised successive administrations and civil aviation officials for not previously doing more to address the problem.
Regarding last month's fatal plane crash, Mr Major said investigators are currently examining the aircraft's maintenance records. Though incomplete, their review so far reveals the aircraft was being properly maintained.
He said: "From the (weather) reports that we received as well as interviews not just with persons on the ground in Andros at the time but with pilots who were in the air, they mentioned the weather was not ideal for someone who is not an instrument rated pilot; the weather was marginal due to a cold front that had passed through."
Mr Major said a log book recovered from the downed plane showed that up to 2014, Mr Clarke had logged 250 hours in the air. The crash investigation now focuses on the role of the weather and the pilot's qualifications and experience.
Speculation
In addition, amid speculation of air traffic services' role in locating the plane before and after it crashed, Mr Beneby said: "The pilot made contact with air traffic services, assigned a special code for identification. Shortly after contacting air traffic services, the aircraft was observed to be reversing its course with intention to return to Andros for some reason. Contact was lost shortly thereafter.
"All attempts to reestablish that contact proved fruitless.
"Immediately an exercise was commenced to locate the whereabouts of the aircraft and to determine whether the aircraft had made a safe return to North Andros. The search eventually revealed the aircraft had in fact gone down in waters just east of south Andros airport."