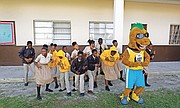 THE Flow CARIFTA Games Bahamas 2018 team was at the Temple Christian School on Tuesday to continue its campaign's message to be "The Best You" in line with the theme of the games: "Faster, Further, Higher."
The students were encouraged to be students of excellence and to be the best they can be. Whether in athletics or academics, they should strive for excellence. That was the message delivered by Philip Gray, senior marketing director of the games. The students were also encouraged not to succumb to peer pressure and the use of illicit drugs, as these areas are great temptations to many young people.
Also present at the school was CARIFTA 2018 Mascot Iggy, the Iguana, who encouraged and inspired the kids as well and entertained them as they danced together.