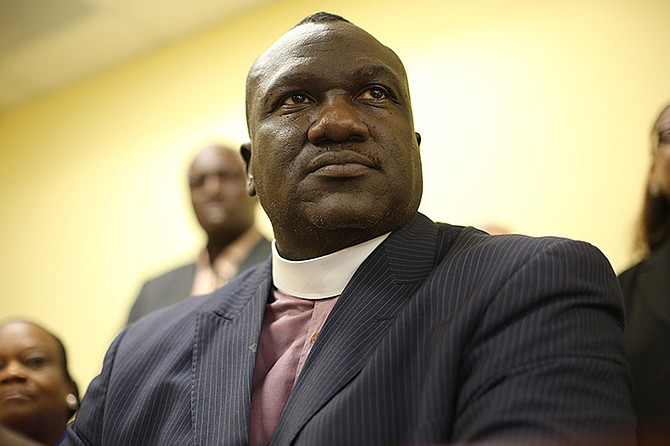 By RICARDO WELLS
Tribune Staff Reporter
rwells@tribunemedia.net
BAHAMAS Christian Council President Bishop Delton Fernander has blamed an "unintentional error" for his oversight of an email from Attorney General Carl Bethel that contained the proposed amendments to the Sexual Offences and Domestic Violence Act, which he previously denied ever receiving.
The controversy was brought to light after Mr Bethel pushed back against criticism he received for not "informing" the Bahamian public before unveiling proposed government policy changes meant to outlaw marital rape at the United Nations in Switzerland last month.
Consultation
Mr Bethel defended his move by insisting he had sought adequate consultation from local stakeholders - considering Bishop Fernander a part of that group. However, in an interview with The Tribune after Mr Bethel's trip, Bishop Fernander said he was shocked by Mr Bethel's announcements to the UN.
On Wednesday, the Nassau Guardian highlighted an email exchange between Mr Bethel and Bishop Fernander, confirming the latter was in fact emailed the draft changes on January 9 and confirmed his receipt of the email.
Faced with this, Bishop Fernander in his statement Wednesday apologised to the attorney general, the Christian community and any other person that may have been adversely affected by his actions.
The statement read: "There has been confusion regarding whether or not the attorney general sent me the marital rape draft legislation for review. I have publicly stated that I did not receive a copy of the draft. Upon thorough review of my emails, I have discovered that I was actually emailed a copy of the draft marked confidential when I was out of country on January 9.
Receipt
"I acknowledged receipt of the message, which is my custom when receiving emails. However, I did not review the contents of the message at the time and did not recall receiving it afterwards."
Bishop Fernander said he is a firm believer of the principle that when you are wrong in any situation, you should admit it and seek forgiveness.
To that end, he added: "In light of my unintentional error, I would like to publicly express my regret to the Attorney General Carl Bethel and anyone else affected for my comments concerning the receipt of this message, this includes the Christian community under my leadership and the Bahamian people at large.
"Rest assured that administrative and procedural steps will be implemented going forward to ensure that situations such as this does not reoccur."
When contacted for comment Wednesday, Mr Bethel confirmed he was made aware of the apology and had received a personal telephone call from Bishop Fernander to convey regret over the situation.
In January, after Mr Bethel made his presentation to the UN, Bishop Fernander said he was shocked by the government's international commitment to criminalise marital rape, calling it a "terrible" move that did not demonstrate good faith.
"Whoever he (Mr Bethel) consulted with I guess he got the green light," Bishop Fernander said last month.
"I find it shocking if we were supposed to have a consultation, but I guess that's the approach. We were going to have a going through with the legal team, so now when we talk about the (January) 30th (meeting), it's more or less tell us what you plan to do, as opposed to get some input to us.
"I find it terrible, I would have hoped that this was leading to consultation but the move to go to Geneva, especially when you go to an international organisation and say this is what we plan to do.
"I don't know if we need to meet anymore, for our own edification we can go through it and say our position. I really wish it was done another way."