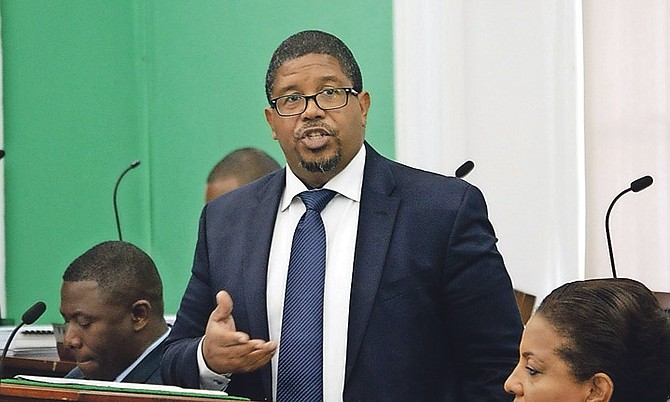 By RASHAD ROLLE
Tribune Staff Reporter
rrolle@tribunemedia.net
DEPUTY Prime Minister and Minister of Finance Peter Turnquest said some recent criticisms of the Bahamas from Tim Rider, Royal Bank of Canada's senior vice president for sales, were "unfortunate" and "uninformed".
At a Royal Fidelity Bahamas Economic Outlook (BEO) event this week, Mr Rider, in a rhetorical question, asked if the Bahamas is committed to its own success and lambasted the educational standards of the country.
The remarks have drawn much attention and commentary. 
Mr Turnquest said yesterday: "We all recognise that there are improvements we need to make, both in terms of our educational system and productivity overall. That being said, we have a very professional and talented pool of industry professionals in the financial sector. The extent the generalised statement was made by Mr Rider, that was obviously unfortunate and uninformed."
Bahamians have been frustrated by RBC's downsizing, branch closures and relatively high fees. However, Mr Rider said the bank will continue its move toward increased digitisation, saying global trends demand it. He said corruption, poor fiscal responsibility and inadequate training have all hindered the country's banking sector.
He called on the government to revisit the Homeowners Protection Act, saying the law has put a strain on the mortgage system. The law was enacted under the former Christie administration, designed to help homeowners who fell on hard times. Christie administration officials referred to the law as the most significant intervention ever into helping people maintain homeownership. Through the law, banks must give notice before exercising their power of sale; anyone contributing to mortgage payments – not just the mortgager – could approach the court for relief; the court could vary mortgage payments and, among other provisions, directors or employees of a bank and their relatives are prohibited from purchasing mortgaged property. 
Mr Turnquest said the Minnis administration is still reviewing the law and engaging in consultations on it. He said if amendments are made, they likely won't come until the next budget cycle when the issue can be comprehensively addressed.
"Statistics show so far not very many have been assisted by the act," he said.
Mr Turnquest also emphasised that the Credit Bureau, legislation which passed the House this week, will go a long way to addressing some of the concerns banking industry stakeholders have about the country's mortgage infrastructure.
"The Credit Bill helps us manage the situation and would allow everyone to make better decisions, both the lender and the borrower, based on data," Mr Turnquest said. 
In the absence of the bureau, lending decisions are based on "imperfect information," Mr Rider said, noting banks are unable to properly assess the creditworthiness of individual borrowers.