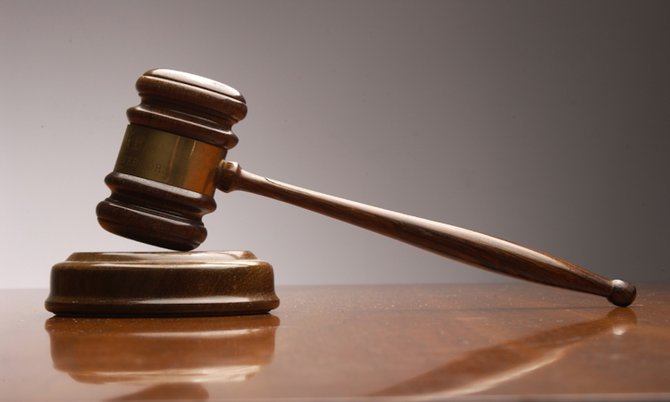 By NICO SCAVELLA
Tribune Staff Reporter
nscavella@tribunemedia.net
A WENDY'S employee was yesterday fined more than $12,000 for hitting, rolling over and consequently killing a 52-year-old man with an unlicenced and uninsured vehicle on Monday night before leaving the scene.
Magistrate Carolyn Vogt-Evans fined 24-year-old Maronique Paul a total of $12,340 after pleading guilty to being the perpetrator of the hit-and-run accident on Carmichael Road which claimed the life of Sunshine Park resident Malcus Ashe.
For the substantive charge of killing in the course of dangerous driving, the Malcolm Road resident was fined $10,000, half of which Magistrate Vogt-Evans ordered to be paid by July 4. The other $2,340, the total amount Paul was fined concerning the other six charges, was ordered to be paid immediately.
Failure to pay the $10,000 dollars would result in one year imprisonment, Magistrate Vogt-Evans said. Failure to pay the $2,340 associated with the other six counts would result in either seven or 30 days in prison depending on the charge.
Magistrate Vogt-Evans noted the sentences are to be served consecutively. She also ordered that Paul's driver's licence be cancelled for five years.
Prior to being sentenced, Paul tearfully apologised to Ashe's two sisters who were present in the courtroom for causing their brother's death.
"I'm sorry for the loss... I didn't mean to kill him," the expectant mother said tearfully. "I hope that they forgive me and I'm truly sorry."
In response however, Deborah Foulkes, Ashe's sister, questioned the sincerity of Paul's apology, and said it would have been more forgivable had she stayed on the scene.
Ms Foulkes further lamented how Paul, after hitting and rolling over her brother, not only left the scene, but instead of going to the police station after doing so, instead went home and "went to her bed" while she and the rest of Ashe's family were left scrambling to find out who killed their loved one.
"Are you truly, truly sorry?" Ms Foulkes asked, her eyes filling with tears. 
On Wednesday, Paul pleaded guilty to seven traffic-related charges stemming from Monday's incident, namely killing in the course of dangerous driving; driving while not insured against third party risk; driving an unlicensed vehicle; driving without a valid driver's licence; fraudulent use of a licence plate; fraudulent use of a licence disk; and failing to remain stationary after an accident.
According to a brief summary of the facts, around 7.50pm on the day in question, the police control room received information of a traffic accident that occurred on Carmichael Road in the area of Quality Home Centre and Shell gas station.
Reports were that a male pedestrian had been struck by a vehicle and received serious injuries as a result. The vehicle involved, a gold coloured Honda Accord, was said to have fled the scene.
Officers were consequently dispatched to the scene of the accident, and upon arrival confirmed that a collision did occur. Emergency Medical Services (EMS) personnel were called and upon arrival a short while later, rendered medical assistance to the male pedestrian who was lying in the street with serious injuries.
However, he displayed no signs of life.
A police investigation into the matter revealed that the man attempted to cross Carmichael Road from the northern to the southern side, and while crossing the westbound lane, he was struck by a gold coloured Honda Accord travelling west.
Upon being struck by the vehicle, the man flew off the front windshield and landed on the pavement. The car then continued in a westerly direction, rolling over the man in the process.
The driver of the vehicle, according to the prosecution, failed to stop after the collision. Instead, that individual turned into the Golden Gates Shopping Centre and subsequently left the scene.
Around 9.50am the following day, Inspector Mario Sweeting and two police sergeants, acting on information, went to an apartment complex off Malcolm Road East where they arrested and cautioned Paul. They also confiscated her gold coloured 1997 Honda Accord.
Yesterday, Paul's attorneys Dervard Francis and Krysta Mason-Smith offered extensive pleas in mitigation on their client's behalf.
Mr Francis submitted Paul was "contrite and compunctious" of her actions and remorseful for the impact the fatal accident had on the deceased and his family. He also submitted his client has been mentally "traumatised," and has not slept from the night the accident happened.
Mr Francis also noted Paul, an employee at Wendy's Carmichael location, has a child, and is due to have another in six months. Thus, he requested the magistrate consider imposing a fine as opposed to a custodial sentence.
Ms Mason-Smith echoed Mr Francis' statements and added that along with being the mother of a young child, Paul also takes care of her elderly father.
Attorney Crystal Rolle also gave a character reference for Paul, stating that she has known Paul for some nine years and that it was "not in her character" to have left the scene "maliciously".
Magistrate Vogt-Evans noted prior to fining Paul that "but for the clear remorsefulness" she displayed in yesterday's proceedings, the matter for which she was charged was an "appropriate" case for a custodial sentence.
Nonetheless, Magistrate Vogt-Evans noted the court has to make it clear there is "no tolerance" for people involved in accidents to avoid the law by leaving the scene.
Magistrate Vogt-Evans further stated that when she first saw Paul she did not appear to be remorseful. However, she said "reality set in" for Paul after she had to spend a night "somewhere else," thus leading to her display of contrition yesterday.
Magistrate Vogt-Evans thus fined Paul $10,000 on count one, and $100; $200; $40; $500; $1,000 and $500 for counts two to seven respectively. Failure to pay the fines associated with counts two, three and four would result in seven days imprisonment each, while failure to pay the fines associated with the latter three counts would result in 30 days imprisonment each.