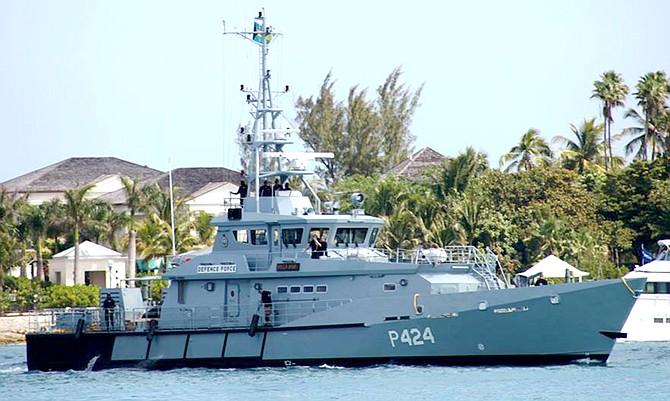 A ROYAL Bahamas Defence Force vessel, the HMBS Rolly Gray, sustained damage in an accident on Tuesday.
The ship, captained by Lieutenant Commander Granville Adderley, ran aground near Ragged Island.
RBDF Commodore Tellis Bethel confirmed the accident to The Tribune yesterday.
"The Rolly Gray had an unfortunate incident several days ago," Commodore Bethel said. "She sustained damage to her propellers (on) Tuesday past.
"There (are) currently underway arrangements being made for her to have an assessment to determine the extent of the damage and the timeline for repairs." 
Commodore Bethel dismissed a report in a local tabloid which priced the cost of the damage at $2million, saying there is no way to know until an assessment is done.
"There is no way to determine what the cost will be until an assessment has been carried out by one of the local shipyards," he said. "However, the vessel is insured."
Commodore Bethel added he expects the estimates for the Rolly Gray will be available in a "few days".
In November 2017, another RBDF vessel, the HMBS Arthur Hanna, was involved in a similar accident.  
When asked about that incident, Commodore Bethel said: "What normally happens is after there is a grounding, there is a board of inquiry that is convened where evidence is provided as to what actually took place.
"And then once that investigation is completed, recommendations are provided by the board and determination made as to what will happen with respect to the commanding officer as well as how the standard of operations will be affected."
However, the estimates for the damage to HMBS Arthur Hanna are still unavailable. Commodore Bethel said: "The assessment has begun by the local shipyard and we're still waiting on the final cost for that one."
The HMBS Rolly Gray was commissioned in Exuma in April 2015. It was the fourth Damen Stan Patrol 4207 vessel to be commissioned, following the HMBS Arthur Hanna, HMBS Durward Knowles and HMBS Leon Smith. These vessels are 138 feet in length with eight-foot draft. 
The Rolly Gray was named after the legendary Bahamian sailor Captain Rolly Gray (1922-2008).
Captain Gray became a captain at the age of 18 and received numerous awards for his participation in sailing. In 2007, he was an inductee on the 'Wall of Fame' at the Lynden Pindling International Airport by the Ministry of Youth, Sports and Culture.