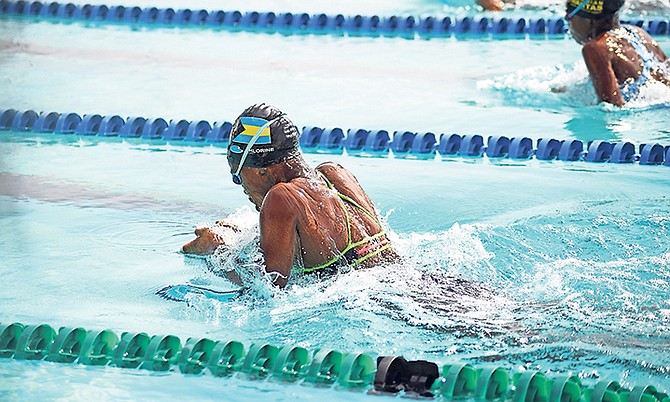 By BRENT STUBBS
Senior Sports Reporter
bstubbs@tribunemedia.net
THE newly formed Mako Aquatics Club emerged as the champions of the Barracudas' annual Atlantic Medical Swim Meet held at Betty Kelly Kenning Swim Complex over the weekend with a number of the high point winners surpassing the CARIFTA Games qualifying standards. At the end of the two-day meet on Saturday, Mako Aquatics Club, headed by Travano McPhee, accumulated a total of 1,103 points to take the title from host Barracudas, who had 838. The Alpha Aquatics finished third with 509.50.
Rounding out the top five were the Freeport Aquatic Club with 408 and the Dolphins Swim Club with 232.50.
Jeff Slater, in his first year as the coach of the Barracudas after the break-away by the Mako Aquatics Club, said the meet was a very competitive.
"I thought we swum very well. It was a great meet. We actually had more people here as this was the biggest meet for the year as we get closer to the Carifta trials in March and the Carifta Games in April," said Slater, who came in from Waterloo, Ontario, Canada. "So the swimmers came in to have a real strong effort and I think they did that. It was a very competitive meet."
When the trials are held, Slater said he expects that the Barracudas will be well represented because they have some young swimmers who are all performing very well.
"I think it's going to be very exciting," he said of the trials. "Everyone is paying attention to correcting the small things to make sure they are ready," he projected. "I think it's going to be a lot of fun."
The Bahamas Swimming Federation will hold their final trials March 1-3 at the Betty Kelly Kenning Swim Complex.
The Carifta Games will run March 31 to April 3 in Kingston, Jamaica.
Davante Carey, Anya MacPhail, Rommel Ferguson, Zaylie-Elizabeth Thompson, Tristin Ferguson and Keianna Moss, who were all among the high points winners in the various age groups, also surpassed the qualifying marks for Carifta.
The other high point winners, who are not eligible for Carifta, were Ayden Bain, Taliyah Bowe, Will Farrington and Trinity Pratt.
Carey, the 15-year-old 11th grader from Queen's College, won the boys 15-and-over divisional title with 50 points, five more than former team-mate Samuel Gibson, who competing unattached, had 45 for the runner-up spot.
Carey got Carifta times in the 100m breaststroke in 1:10.74 under the time of 1:13.44; the 50m breast in 30.99 as he was joined by Luke Thompson of Alpha Aquatic, who did 31.19 as they both surpassed the standard of 33.08 and he had the second of three qualifying times in the 200m IM in 2:20.11 behind Thompson's 2:15.87 and ahead of his team-mate Andre Walcott (2:20.78) as they all went below the standard of 2:21.69.
"It was a good meet overall. I'm just getting ready for the Carifta trials," said Carey, preparing to make his fourth team. "I'm just trying to take my times down and better my chances to be able to make the team. I'm satisfied with what I did. I went best times in most of my events. Things are looking good and we seemed to have a strong team for Carifta and so I hope I'm a part of it."
Anya MacPhail, also of Mako, won the girls 15-and-over high point title with 48 points, eight ahead of Freeport Aquatic's Jeleah Delancy, who had 40 for the runner-up title. MacPhail, a 15-year-old tenth grader at St Andrew's School, got a Carifta qualifier in the 200 IM in 2:38.89 with the standard set at 2:40.10.
"It's getting close to the Carifta trials, so I'm just trying to make my best times, but I'm very happy with my performances here," said MacPhail, who is also seeking her fourth appearance on the Carifta team. "I feel very good. I'm in top shape and I'm ready to give it my best."
Zaylie-Elizabeth Thompson of the Alpha Aquatics picked up the girls 13-14 title with 36 points and was followed by Salena Gibson, who competed unattached, with 32.
Thompson had four Carifta qualifying times in the 50 free (28.58) to go under the standard of 28.76; in the 100m free (1:01.98) to surpass the standard of 1:03.40; 200m (2:33.18) to dip under the mark of 2:41.04 and the 400m IM (5:54.59) to go under the standard of 5:34.49.
"I think did. I think I'm in a great place going into Carifta," said Thompson, a 13-year-old eighth grader at St Andrew's School. "I believe that I will do something good for the Bahamas."
Treston Ferguson was the winner of the boys' 11-12 division with 47 points for Mako Aquatic, followed closely by Hodari Prince of the Barracuda's Swim Club with 45.
Ferguson, an 11-year-old seventh grader at Queen's College, surpassed the Carifta standard of 5:06.39 in winning the boys 11-12 400 free in 5:05.64.
"The meet was good. We got to swim a lot of events, so I really enjoyed the meet," said Ferguson, who also enjoyed competing in the 200 free.
Keianna Moss, representing Mako Aquatic, won the girls 11-12 divisional title with 52 as Abayomi Brown of the Freeport Aquatic trail with 50. Moss won the 100m backstroke in 1:17.30 to go under the Carifta standard of 1:19.01 and also had two other feats with second places in the 50 free in 30.05 behind Brown's 29.88 with the standard at 30.58 and Moss did 2:48.53 for second as Grace Farrington of the Barracuda's won in 2:47.55 as they both went under the standard of 2:05.05.
"It was in the middle because I felt I could have dropped my times a lot lower," said Moss, a 12-year-old grade eight student at St Augustine's College. "I just wanted to get my qualifying times in the 50 and 100 free."
Ayden Bain of Freeport Aquatic took the boys 9-10 title with him to Grand Bahama. He had 57 points to beat out Mako.
William Farrington of the Barracudas picked up the title in the boys' 8-and-under with 51 points. His nearest rival was his team-mate David Singh with 35.
"I felt good. I think I could have done better, but I know I will get there," said Farrington, an eight-year-old grade four student at Queen's College. "I liked the 200m IM and the 100 breast."
Trinity Pratt of the Barracudas won the girls 8-and-under title with 46 points over Sea Waves' Taylor Knowles, who had 36. "It was good. I think I did very well. I tried my best," said Pratt, a nine-year-old fourth grader at Queen's College.