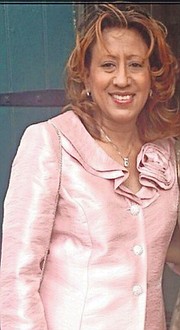 Roxanne Chipman has announced her retirement from education and the consequent closure of her preschool, the Gleniston Centre for Learning.
In a letter, Mrs Chipman, the wife of former St Anne's MP Hubert Chipman, talked about her four decades-long love for her profession.
"It seems like only yesterday that I entered the classroom for the very first time, but in reality it was 41 years ago. I remember with fondness the various schools and students I've encountered – Walter L Cohen Senior High, St Cecilia's Catholic School, St Augustine's College, and of course my beloved Gleniston Centre For Learning," she wrote.
Mrs Chipman said she counts herself fortunate and blessed to have spent these years working at her dream career.
"My proudest moment was opening Gleniston in September of 1994 – my very own preschool. Since then, hundreds of kids have walked through our doors. It has been a good ride. It has also been an honour and privilege to have what I call the most loyal and dedicated staff and parent body over these 24 years. Without their love and devotion to Gleniston I could not have done it," she said.
"Amazing things have happened over the years and great memories and bonds forged. Our success is indeed a testimony to everyone in the Gleniston family. We have worked together as a team, not always in agreement, but always together for the benefit of Gleniston. I thank all those whose dedication and commitment contributed to our success."
While she is saddened by the closing of the Gleniston Learning Centre, Mrs Chipman said there is a silver lining:
"Though Gleniston will be no more, the pitter-patter of little feet will still be heard in her classrooms and swings will still creak on the playground. I am both proud and excited to announce that Over the Rainbow Academy, under the direction of Orient Edgecombe, will occupy the hallowed halls of Gleniston," she said.
Mrs Edgecombe has been involved in early childhood education for the past 18 years and has an Associates degree in the field from the Success Training College. She taught at Gleniston for nine years. In 2010, she founded Over the Rainbow Academy on Montgomery Street where she serves children from infancy through the preschool years.
The Academy's infants will remain at her current location and the preschoolers will be at Jean Street at the Gleniston location.
"Because Mrs Edgecombe trained at Gleniston, she follows our curriculum and has inherited our staff. We will assist her with registration during the remainder of this school year," said Mrs Chipman.