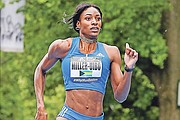 THE Ministry of Youth, Sports and Culture extends congratulations to Mrs Shaunae Miller-Uibo for her outstanding, record-breaking, gold-medal performance at the 2018 NYRR Millrose Games.
"Shaunae has cemented her status as one the Bahamas' greatest track and field athletes of all time and is currently ranked at No.1 in the world in the indoor 300m and outdoor 400m," said Michael Pintard, the Minister of Youth, Sports and Culture.
"Shaunae won the event of last year and she established a personal best and world-leading time of 35.71. Last evening, her time of 35.45 equalled the current world record, which was established in 1993.
It should also be noted that she is "peaking," very timely with the IAAF World Indoor Championships less than a month away in Birmingham, UK, March 1-4.
"The Government and the people of the Bahamas applaud Mrs Miller-Uibo for her unselfishness and dedication to representing The Bahamas in a superlative manner at the Millrose Games," Pintard said. "It is my esteemed pleasure to convey congratulations on her stellar performance. She continues to make our country proud.
"We wish her continued success on the road ahead to the 2020 Tokyo Olympic Games."