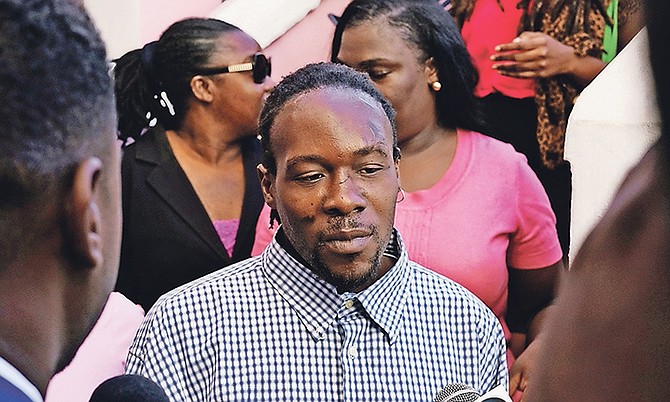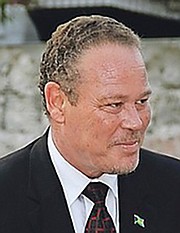 By AVA TURNQUEST
Tribune Chief Reporter
aturnquest@tribunemedia.net
THE case of Bahamas-born Jean Rony Jean-Charles has unearthed a significant and far-reaching legal challenge over the verification of birth certificates, Attorney General Carl Bethel confirmed yesterday.
Mr Bethel said the government will not seek to amend existing immigration laws before a determination is made on its appeal of Mr Jean-Charles's case, as has been suggested by former immigration minister and Progressive Liberal Party Senator Fred Mitchell.
Notwithstanding potential gaps in the law, Mr Bethel said the law provides certain rights, given an individual can prove they are the person named on a birth certificate - a feat he maintains Mr Jean-Charles has not been able to do.
Mr Bethel spoke to media outside Cabinet yesterday morning.
Later in the day, Mr Jean-Charles was not initially able to collect his belongings from the Carmichael Road Detention Centre (CRDC) because he could not produce any documentation to confirm his identity. The Tribune was told it took three separate attempts before Mr Jean-Charles was allowed to recover his items, which included a cellphone, a small bag of clothes and a printed copy of the court-ordered emergency travel document issued by the government last week to facilitate his return from Haiti.
The document contains an old photo of Mr Jean-Charles, which he previously confirmed was used on a certificate of identity that he held when he was 16 or 17. His personal copy of the document was destroyed by fire in 2016, he said, and had been his only photo ID.
Attorney Fred Smith yesterday characterised the issue as a continued victimisation of his client by the Immigration Department, and a further aggravation of damages. 
"In this particular matter," Mr Bethel said outside Cabinet, "we feel that the case is very clear but there are several issues that the Court of Appeal opinion when given will be very helpful as we look towards the drafting of laws to cover what is an obvious lacuna (legal term for gap) in the law.
"The law provides certain rights for persons born in the Bahamas provided they can show that they are the person named in the birth certificate," he continued, "which is a situation that (Mr Jean-Charles) has not quite been able to do. But in any case, where someone is able to show that they have a birth certificate, and to prove by corroborative evidence that they are in fact the person named in that birth certificate, then there is a gap in the law if they have not applied pursuant to the provisions of article 7 of the Constitution."
Mr Bethel said: "If they have not done so, the law is silent on what their status is, if any, and what right, or entitlement, or legal status, they may either possess at the time, or they may apply for. Certainly once the Court of Appeal has dealt with this particular matter we will factor in the court's view of how things should occur under the existing law and we will follow that, but we will reserve the right as a sovereign government and a sovereign legislature."
On Monday, Mr Bethel explained Mr Jean-Charles' case has placed the government in a position not covered by law or the Constitution, and urged the country to exercise restraint and let the law take its course following his release from custody.
Mr Jean-Charles did not apply for citizenship when he was between the age of 18 and 19, and was deported at age 34 after being held at the Carmichael Road Detention Centre for some three months.
His attorney filed a habeas corpus application questioning the lawfulness of his detention, but it was later revealed that he had been deported.
In response to a subsequent constitutional motion, Supreme Court Justice Gregory Hilton ordered the government to "immediately" issue a travel document for Mr Jean-Charles to allow him to return from Haiti to the Bahamas at the government's expense and to grant him legal status no later than 60 days after his return, and upon him making an application.
The government has appealed the Supreme Court ruling, and was granted a temporary emergency stay that led to Mr Jean-Charles' arrest and detention over the weekend when he returned to the country.
His lawyers have objected to his arrest as a breach of the initial ruling that could not be halted by the stay, as it had already been effected.
The stay application hearing began on Monday, but was adjourned until tomorrow at 10am.
Yesterday, Mr Bethel told reporters: "If we are not satisfied that the present legal situation adequately protects the Bahamian people or adequately addresses in an appropriate manner how persons in that situation ought to be treated and what rights they have, we reserve the right to go back to the legislature and have the legislature affirmatively clarify the position that is what will happen.
"But we will not at this stage," he added, "seek in any way to affect the matter presently before the Court of Appeal by some retroactive activity. We will see what the court says and we will then respond legislatively if necessary to that determination of the court."
It is unclear whether the Supreme Court's ruling has had an impact on the government's increased enforcement measures.
Based on section 18 of the Criminal Procedure Code, Justice Hilton stated if an individual is apprehended by immigration officers for allegedly committing an offence, that individual cannot be detained for more than 48 hours before being charged and taken before a magistrate.
Yesterday, immigration officers reportedly apprehended Fanel Gassant, who had been recently released with reporting requirements from the CRDC pending the hearing of his habeas corpus application.
Mr Gassant had been in detention at the CRDC since November 29; however, supporting affidavits say he is married to a Bahamian woman and has an outstanding application for a spousal permit.
His lawyer, Crispin Hall, yesterday told The Tribune that he has filed a constitutional action over his apprehension.
More like this story