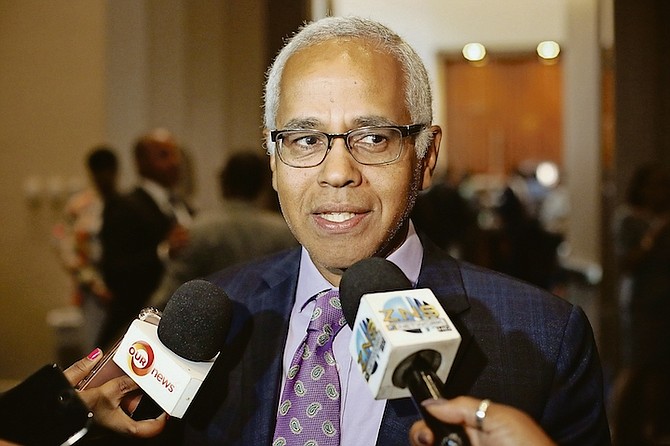 By RASHAD ROLLE
Tribune Staff Reporter
rrolle@tribunemedia.net
TOURISM and Aviation Minister Dionisio D'Aguilar has suggested the political leanings of two Progressive Liberal Party supporters may have played some part in their firing from airports in Eleuthera.
He told The Tribune the two women did not have excellent job performance and unwisely and overtly showed they were supporters of the opposition party while working for the government.
However, he rebuffed assertions they were being victimised.
Mr D'Aguilar, when contacted Monday, insisted the women were not fired at his direction but instead said the board of the Airport Authority determined they were not suited for their roles.
Emphasising he does not get involved in the minutia of personnel decisions, he referred The Tribune to James Pinder, the chairman of the Airport Authority, for answers.
But Mr Pinder expressed "surprise" yesterday that he did this, saying: "I have absolutely nothing to say about that issue. I have no idea."
The firings of Danielle Gibson and Holly Barrett sparked a showdown between House Speaker Halson Moultrie and Englerston MP Glenys Hanna Martin, former minister of transport and aviation, which led to her suspension from the House of Assembly last week.
Mrs Hanna Martin's efforts to advocate on the women's behalf in the House of Assembly have been rebuffed, however, culminating in last week's ruling that she be suspended for disrespecting Speaker Moultrie by leaving the lower chamber while he addressed her.
He previously said she lacked evidence supporting her claim the women were victimised and he struck her commentary about the episode from the record.
PLP Leader Philip "Brave" Davis has said he warned Prime Minister Dr Hubert Minnis months ago the women's jobs as assistant managers of the North Eleuthera and Governor's Harbour airports were in jeopardy because of their political leanings.
"Their performance was evaluated," Mr D'Aguilar said about the terminated women. "The board came to the conclusion they were not suited for that position at this time and decided to terminate them. Within aviation, you got 28 Family Island airports. From time to time you will have turnover and changes in management."
He added: "When they were fired, they didn't call D'Aguilar. They called Glenys. They obviously thought she was the person who put them there so she would keep them there. They are screaming political victimisation but it's very important to note that when a management team changes, generally after an election is held, you as an employee are subject to the management style of the new boss. You can't continue operating the way you did before."
Ms Gibson and Ms Barrett have told The Tribune they were never reprimanded or disciplined, adding their performance was exemplary.
"Clearly management of the Airport Authority disagreed," Mr D'Aguilar said in response.
When the women were fired, officials gave them no reason or explanation for the termination, they said.
While Mr D'Aguilar insisted the women weren't fired simply because of their politics, he said it was "no secret they were affiliated with the PLP" and he suggested they made an overt demonstration of this.
"Many persons in government," he said, "are affiliated with the opposition but figure out a way to coexist with the new government and survive. Many people I inherited were appointed by the PLP who are excellent civil servants. They are in tourism, aviation where Mrs Martin had appointed many people. A lot of them are excellent and loyal to the government. These two were not excellent and it's not wise to openly be a supporter of a political party while working for a government."
Mr D'Aguilar said he will let Airport Authority officials determine suitable replacements for the women, adding he won't interfere in that process to ensure Free National Movement (FNM) supporters get the jobs.