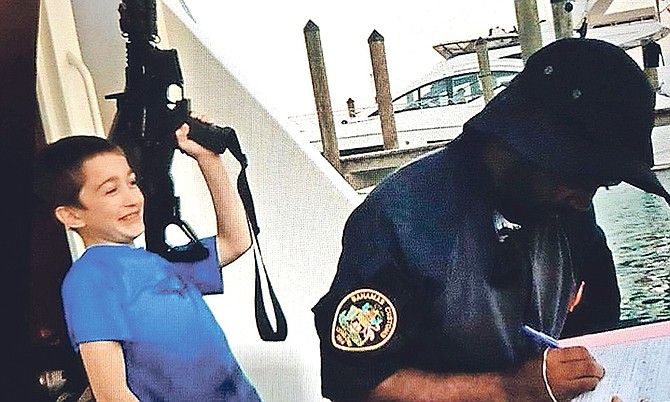 By RICARDO WELLS
Tribune Staff Reporter
rwells@tribunemedia.net
AUTHORITIES are investigating the circumstances surrounding a condescending and controversial social media post made by an international boater, where he scoffs at the ease in which he was able to transport firearms into The Bahamas.
Deputy Prime Minister Peter Turnquest and National Security Minister Marvin Dames yesterday confirmed the Customs Department was aware of the post and looking into its circumstances.
In the Facebook post, a user by the name of 'Jay Like' posted photos of his declaration process, where he presents what appears to be high-powered rifle and pistol to a Bahamian customs officer.
'Jay Like' wrote: "Clearing Bahamian customs, Friday, got to love third world countries!"
He went on to detail a brief exchange he has with the officer, writing: "Q: Do you have any weapons? A: Yes, fully automatic machine guns. Q: Can you get them? A: Hey buddy, go grab the M4 for the nice officer, ok dad."
The latter part refers to the poster's son who was pictured brandishing the assault rifle with a smile.
Mr Turnquest, when contacted by The Tribune and presented with photos of the post, said he was working to learn the details, primarily the processes that permitted the declaration.
Mr Turnquest added: "I am led to understand that the foreign vessels can enter into our waters with up to three firearms which must be declared at the first port of entry and officially declared exported on leaving the Bahamas."
The East Grand MP said clarification on the policy would have to come directly from the Bahamas Department of Customs.
However, officials at the Department of Customs could not be reached for further comment.