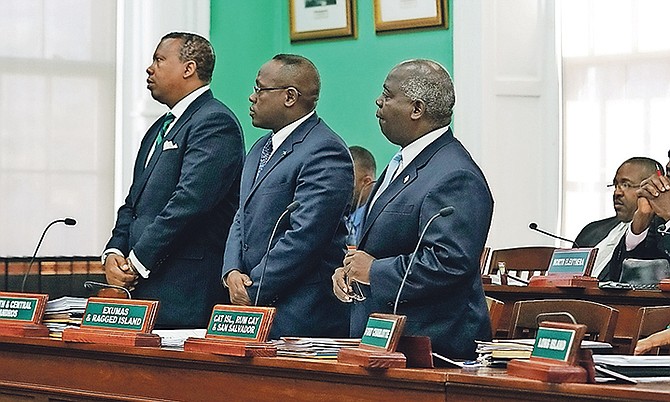 By RASHAD ROLLE
Tribune Staff Reporter
rrolle@tribunemedia.net
IN a surprising and unusual speech from the chair yesterday, House Speaker Halson Moultrie launched personal attacks against members of the Progressive Liberal Party while defending his decision to suspend Englerston MP Glenys Hanna Martin last week.
Among other things, Mr Moultrie took a swipe at the foreign-born status of the wife of PLP Leader Philip "Brave" Davis. And in an apparent dig at PLP Chairman Fred Mitchell, he accused Mr Davis of taking advice from "reprobates" and "perverts."
Mr Moultrie also lashed out at retired parliamentary clerk Maurice Tynes.
At a press conference called not long after the House of Assembly adjourned, PLP officials described the Speaker's conduct as bizarre and shocking.
Mr Davis called him a "bullying buffoon" and referred to him as a "dergin." 
"He is unprincipled and disgraceful," Mr Davis said. Mr Mitchell said he was not troubled by Mr Moultrie's references to him, but is "happy" to meet him "in the street" if the latter desired.
Among the criticisms that appeared to irritate Mr Moultrie the most was Mr Davis' allegation on Sunday that misogyny influenced his treatment of Mrs Hanna Martin.
Responding, Mr Moultrie said yesterday: "While I can give you more than 90 reasons why the member for Cat Island, Rum Cay and San Salvador's allegation is absolutely absurd, I shall confine my response to the fact that I am married to a beautiful and wonderfully made Bain and Grants Town woman for the past 38 years. And I want to emphasise to the member for Cat Island, Rum Cay and San Salvador, that my wife is an indigenous Bahamian woman and that I have had in over those 38 years no reason for a divorce," he said.
"Our marriage has been touted by the church, marriage groups and by the Broadcasting Corporation of the Bahamas as a model love affair and as a husband I have been deemed a role model of how husbands should love and treat his wife," Mr Moultrie said.
"Member for Cat Island, Rum Cay and San Salvador, he is fully aware of past encounters with myself, that I do not have a track record of hating women. You know, the member and I have a mutual best friend and if the member had consulted our best friend on this matter I'm sure he would've been advised to leave that path and to leave this matter alone. "Notwithstanding, the member has allowed in my estimation reprobates and perverts with track records of denying and hating women to insert such a ludicrous assertion into his press release. My name might begin with 'M' but the first three letters are Mou and not Mit. Don't mix me up. I am not a soft powder puff man. I am a real man," he said, in an apparent reference to Mr Mitchell.
"While I may not be able to engage in the debate, I am certainly permitted to defend my integrity. I love my wife, an indigenous Bain and Grants Town woman and highly cherish and respect all women but I happen to also agree with King Solomon in Proverbs 21:19. What it says to the effect is it is better to live in a desert than to live in the home of a quarrelsome woman."
'Coward'
Mr Davis, at the press conference, said he interpreted the Speaker's references to wives as an attack on his own wife, who was born in Trinidad and Tobago.
"I don't think much of a man who attacks another's wife," he said. "That man is a snivelling coward. From the chair, he shows his lack of intelligence; he shows he's not fit for office that he occupies… Talking about one's wife is highly provocative which very often leads to a breach of the peace. I don't understand why the Speaker would be so provocative when we in this society are trying to teach young men and women to pursue the things that make for peace."
For his part, Mr Mitchell said he wouldn't address the Speaker's references to him head on.
"I told people as it relates to myself, in a sense you don't want to dignify the stupidity of those comments this morning by responding to it. I could tell him all about his ma, about his wife, his children and all the rest of them… but I won't go there, at least not now. But you see what it opens up, because what it does is it unleashes every follower in the country to go in that direction and I want to caution people about not going in that direction because that's not governance we support.
"Have no fear about me and whether what was said means anything to me. It means nothing to me. I've grown up in this society. I'm 64 and at this point it doesn't matter to me. I will say whatever comes to my mouth if it is necessary for me to defend myself. So, Mr Speaker, if you want to meet me in the street, I am happy to do so," Mr Mitchell said.
As for former clerk Mr Tynes, Mr Moultrie called him "troubled," and insisted partisanship is the reason for his recent criticism of the Speaker's decisions. 
"I thought that the retired clerk was my friend," he said. "I remember when I was in third party politics as leader of the Bahamian Freedom Alliance (BFA), the retired clerk would call me all the time and provide me with material to attack the Ingraham administration. His advice almost caused the former prime minister to sue me. I thought he was championing the cause for good governance and democracy, but alas he was only trying to help the PLP as he seems to be doing today while also attacking the acting and hopefully soon to be confirmed clerk of Parliament, David Forbes.
"I had the opportunity of working with the apparently troubled retired clerk from May 24, 2017 through August 31, 2017 and all I can say at this time is thank God for attrition. Imagine trusting, working with and relying on the advice of someone who has now publicly expressed his inner most feelings and the kind of political venom directed at the Speaker in the letter to the editor. Thank you very much, Mr Retired Clerk, may your soul rest in peace."