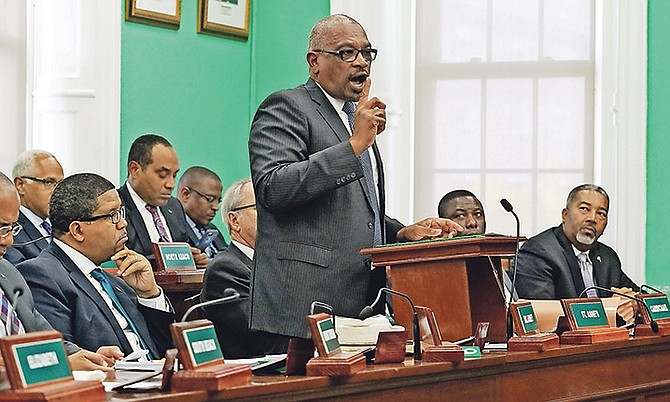 By Malcolm Strachan
THE last few weeks of Parliament had the makings of daytime television, or as many Bahamian women would call it, "the stories". However, this storyline tells of something much more horrific. Our political system thrives on sensationalism and the proliferation of gutter politics. As a nation, we hold on to our seats through "silly season", as it is too entertaining to remove ourselves from the political rallies, talk show commentary and newspaper headlines. But once the dust settles and it is time for the rubber to meet the road, the Bahamian people want and need a government capable and willing to implement plans and policies that would advance the nation regardless of political partisanship.
Where do we begin?
First, a sparring match ensued with Englerston MP Glenys Hanna Martin and Speaker of the House Halson Moultrie, which ended in the naming and suspension of Hanna Martin. If that wasn't enough drama, Moultrie last week went on a nearly hour-long, bizarre diatribe where he attacked the marriage of Opposition leader Philip "Brave" Davis and insinuated that PLP chairman Fred Mithcell was a "powder puff" man. If this display of immaturity that is beneath the offices of all involved was still not enough, MP for MICAL Miriam Emmanuel made a terrible attempt to analogise equality in male-dominated arenas with women being abused by their husbands. Go figure.
Who are these people? School kids trading insults on a playground or our nation's leaders?
What's worse is that in the prime minister's only commentary on all of this nonsense. He praised the Speaker of the House for, above all things, "doing what is right". Can you believe it?
We know the political sycophants who would dare not find fault with their beloved party have found every justification in the book to excuse this ludicrous behaviour. But how do you defend the indefensible?
How does the prime minister not rebuke such ridiculous behaviour?
Aside from the Attorney General stating the government does not condone domestic abuse, and an apology from Emmanuel that fell flat, we've not heard much else.
Perhaps something, anything from the prime minister would have been more comforting. Even the other members of the government, who we believe to have honour and integrity, could have come out and stated when wrong is wrong, rather than sitting silent. They did not hesitate to support Moultrie's overkill tactics of flexing his power as House Speaker.
It is unfortunately too reminiscent of former Education Minister, Jerome Fitzgerald's, "touch one, touch all" mantra.
This juvenile back-and-forth taking place between senior members of the Opposition and the Speaker of the House is embarrassing, to say the least. Grown men speaking about each other's wives and egotistic utterances should turn the stomachs of all those within an earshot to this brand of gutter politics.
Without a doubt, we have some real issues facing our country right now that require a surplus of resources. Immigration requires a great deal of attention, with sloops still coming in loaded with Haitians. Crime, despite comparisons between present day 2018 with last year, we still know to be very unpredictable and has the capability to spike at any time. The economy, although movement is being made towards a slow uphill climb, is still in a rut. Education is still underperforming and was highlighted recently as a deterrent to Bahamian success by a RBC exec. Communities are still suffering the effects of a delayed resolution to the landfill, even though the government promised there would be one by the end of 2017. Further, how is Ragged Island going to become a "green island"? What does that look like? Can we delve into the government's plan to remove VAT off breadbasket items and discuss a 360-degree view of its potential benefits and ramifications?
We can go on and on referencing with issues that would have far superceded the Speaker's demand for respect. Yet this is what taxpayers' money is being spent on. This is what they want a raise for – to take part in juvenile buffoonery.
One has to wonder if there is a conspiracy awry so as to distract the Bahamian people from their lack of planning. We have been getting tidbits and inferences of what is to come – much of what we got along the campaign trail – but nothing for us to call home about. It is discouraging to see the time spent on nonsense, when we would prefer to witness a national discourse that makes life for Bahamians better.
With all due respect, nobody cares about the type of husbands Moultrie and Davis are. We would hope they would be setting good examples for the young men and women under their tutelage, of course. But to the extent that we care to hear about the private inner workings of their marital relationship - surely not.
What Bahamians care about, by and large, is how life will be better for us and our families. How are we going to fare in the world among a region that is becoming more competitive for us to thrive. We want our children to be positioned to obtain success in safe environments conducive to their development.
Unfortunately, the tenor of this outrageous bickering between political factions is not cooling as we are now going into a new week where the entire Opposition is suspended for two sittings of Parliament. Obviously, not much will be getting done there, and yet again, our headlines will be littered with tabloid-like smut.
Ironically, this reminds us of Prime Minister Minnis' whipping of local journalists when he received the Press Club's Man of the Year Award. He scolded them for their lack of real stories and compared them to tabloids and fake news. Yet, here he is condoning a member of his government acting in such a fashion that is far beneath the standards of the offices they hold under his watch.
He should have been the first person to speak against such absurdity, as opposed to allowing the Speaker's head to swell to such epic proportions. Essentially, it is this nagging reality that leaves much to be desired by the citizenry.
Author of the book, Start With Why: How Great Leaders Inspire Everyone to Take Action says something very profound that can be applied to what's happening to our political context. He says: "There are leaders and there are those who lead. Leaders hold a position of power or influence. Those who lead inspire us."
The prime minister's personality as a leader is not consistent with his position. Unfortunately, most times when we hear him speak, it sounds scripted and passionless. Setting aside the assertions by some in his government of him being the architect behind some of their most promising initiatives, he evokes little to nothing in terms of the citizenry's emotions.
Perhaps, it is this kind of lack of presence that would allow the Speaker of the House to think it would be okay to pursue such a self-promoting tirade, instead of allowing the nation's business to be tended to.
We don't have all the answers.
Furthermore, our intention isn't to attack the prime minister either. However, we would like to see him jump into the driver's seat when things appear to be going off course and steer us in the right direction.
He doesn't have to be the greatest orator to be able to do that. He simply has to be focused and know how to evoke the same from others.
The spectacle that has been taking place in Parliament simply does not portend that Prime Minister Minnis, nor his government, is currently focused on the issues important to the Bahamian people.
Hopefully, the prime minister is able to learn a valuable lesson from his predecessor – the euphoria of power can be very treacherous.
As he continues to navigate his role as prime minister, we hope this crystalises in his mind much sooner, rather than later.