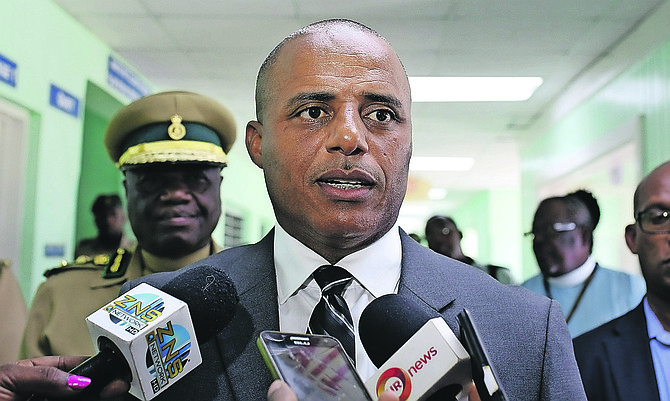 By RICARDO WELLS
Tribune Staff Reporter
rwells@tribunemedia.net
NATIONAL Security Minister Marvin Dames dismissed concerns yesterday over a spate of fatal police-involved shootings just hours after another suspect was gunned down.
Mr Dames insisted officers are responding in-kind to what they encounter on the streets.
On the streets has meant six fatal police-involved shootings this year, with the two most recent occurring in  24 hours.
Since the beginning of November 2017, there have been 11 fatal police shootings, according to The Tribune's records.
Yesterday, Mr Dames said the process has always been and continues to be transparent. 
He insisted police are not in the business of "arbitrarily taking people's lives," and that whenever someone is wounded or killed by police, it must be justified.
Mr Dames called on Bahamians to recognise that modern-day officers are no longer operating in the Bahamas of the "70s and the 60s," stressing that police now encounter more assailants who are inclined to engage them with firearms.
Mr Dames, a former senior police officer, said the public should avoid getting lost in statistics of police-involved shootings and take a critical look at the circumstances in which they occur.
In the two most recent incidents, police shot and killed men said to have a criminal history. Police said a man killed on Sunday was engaged in a drug deal and opened fire on officers, while the man fatally shot yesterday produced a knife and advanced towards them.
In response, Mr Dames said yesterday: "…. What we must recognise too is that this is the world that we are living in today. Many of these incidents, and not passing judgment because we have to see what happens at the end of the day, many of these encounters involve persons armed with weapons.
"We are not living in the Bahamas of the '70s and the '60s, so the focus on counts shouldn't be the issue. What should be the issue is what is that officer, or those officers, encountering when they face that threat?"
According to Mr Dames, well over 80 per cent of serious crimes committed in the Bahamas are done so with the use of firearms.
He added: "That is what you are faced with. And so, if an officer encounters someone on the streets, and he or she feels threatened, I can't make that decision for them. They have to make that for themselves.
"I don't think that you would expect for me to stand here and accuse every officer of a shooting. This is the world that we are living in today. The only thing that we want to ensure, is that when a life is taken or someone is shot, that there is justifiable reason for it."
Mr Dames said the record would show that police have been forthcoming with information in these cases.
"This administration, and I know I speak for the commissioner and his officers, that they are not in the business of covering up for officers who do wrong and there is no justifiable reason for it."
Mr Dames said he has already held conversations with the attorney general, with the hopes of fast tracking all matters before the Coroner's Court. 
"Because we want, and I am certain the police as well, because they speak to me as well, everybody wants transparency. 
"Anytime an officer takes a life, and I can speak from past experiences with the officers I have had to deal with, it is not a good feeling because that officer too goes through a certain level of stress and trauma. And so we have to take that into consideration as well.
"But I want to make it very clear that we are not in the business, the Royal Bahamas Police Force is not in the business of arbitrarily taking people's lives. And we will not stand by or sit down and allow for that to happen."
 "But one thing that must be recognised," said Mr Dames, "in the early hours of the morning or late at night when we are all at home and the streets are busy, and individuals are out there armed and an officer is called to a scene, he or she has to make a decision based on that moment.
"We cannot decide for them. We can provide the training and the education to equip them, and we have done so, to equip them to make better decisions.
"But at the end of the day they recognise that whatever happens, there is a certain level of accountability. We have provided for the police automated equipment to assist them with decision-making. They have used it extensively.
"We will continue to build that level of capacity. We will continue to grow training because a part of our government's mandate and focus is to professionalise the police force."