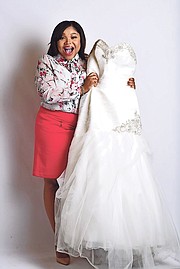 By ALESHA CADET
Tribune Features Reporter
acadet@tribunemedia.net
Seeing the love and attention to detail that went into planning her own nuptials a year ago has inspired Larissa Burrows to launch a one-stop bridal resource to help give Bahamian couples the wedding of their dreams.
She describes her new company, called BrideBerry, as a "virtual Rolodex" featuring contacts for all the best vendors and services needed for a wedding and any other special occasions.
"I'm sure that any bride who has planned their own wedding, especially one with over 300 guests, feels like an expert once the event is completed successfully. Like many women I know, I love beautiful things, and that includes weddings and all the sparkle and shine that goes with them," she told Tribune Woman.
Soon after her wedding in January 2017, Larissa said it seemed like every day people were asking her for recommendations regarding wedding photographers, decorators, videographers and other vendors.
With a background in public relations, journalism, advertising and design, and her own wedding experience under her belt, Larissa landed jobs on many a event planning team.
Because she had already had done all the legwork and tracked down the perfect vendors and services, it was easy to make contact and hook her new clientele up with the best the industry has to offer.
"I realised that so many people had no clue where to start. My idea was then to put all of these vendors in one place, along with photos or videos of their work, contact information, and other useful information needed to guide someone toward selecting the perfect vendor for them," she said.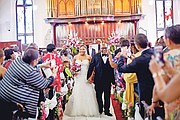 "I call BrideBerry a virtual Rolodex of Bahamian wedding vendors. My goal is to have BrideBerry as the top-of-mind resource for people planning weddings and other special events. I would like for it to become a community where people share their experiences working with our talented Bahamian vendors so that it's easier to select the best fit for a particular bride/groom/event."
BrideBerry's tagline is "Freshly picked event planning", and Larissa said the company will strive to offer just that - all of what an individual or couple needs in order to plan a special event to their specifications.
The www.mybrideberry.com website now offers vendor listings (vendors are invited to list their businesses for free with basic information or select a paid package, which has more benefits).
Going forward, it is also Larissa's hope to become an avenue for brides who are planning a destination wedding. BrideBerry aims to host vendor showcases, sponsored workshops facilitated by vendors, and lots more.
"Weddings make me happy. While I wouldn't consider myself a wedding planner, I have helped a lot of family members and friends plan their weddings. I find the most joy in providing relief to a frazzled or anxious bride, as the wedding planning period can be very stressful, so when I can throw out suggestions to fill some blank spaces in their vendor listing, it really makes me happy," she said.
"Thus far, I have received a lot of positive feedback from vendors. One in particular is located in Exuma, and she expressed to me that she was very excited about the opportunity to market her businesses to the many brides who choose her island as a destination wedding location. I'd also like to expand the team at some point and add more features to the website."
For more information, e-mail hello@mybrideberry.com.