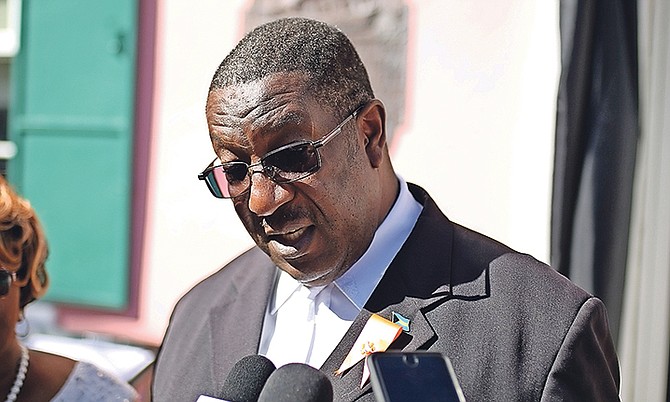 By KHRISNA RUSSELL
Deputy Chief Reporter
krussell@tribunemedia.net
WITH the Official Opposition expected to move a motion of no confidence in the chair tomorrow, House Speaker Halson Moultrie said he is prepared to live with whatever the outcome of the vote at Parliament brings as he vowed to be "impartial" in overseeing proceedings in the lower house.
Insisting yesterday he did not want to comment on the events of last week where he launched personal attacks at members of the Progressive Liberal Party (PLP), Mr Moultrie said the opposition was well within its right to move the no confidence vote. He said the rules of the House provided for this mechanism when members of Parliament or a political party are aggrieved or disagree with decisions made by the Speaker.
Speaking to the issue yesterday, Prime Minister Dr Hubert Minnis said he was not concerned by the no confidence vote.
"Check the PLP's record. This is normal for them. Every time they get beat they move a no confidence vote," Dr Minnis told reporters.
"I followed the rules of the House, I was suspended. I am a man of law and order," the prime minister also said, adding that nothing surprises him when it comes to the PLP.
Asked whether he supported Speaker Moultrie, Dr Minnis did not say outright but insisted this among other issues related to this ongoing stand-off between the governing side and the opposition will be addressed when the House convenes its next sitting tomorrow.
When he spoke to reporters following yesterday's brief sitting, Mr Moultrie said: "The rules provide that whenever a member or a political party is aggrieved or in disagreement with the Speaker's decision that a motion can be moved by that party and so the Official Opposition is well within the rules as it relates to that.
"And so the only thing that I would want to say about that is that the rules are working themselves out in that from the beginning I indicated that I would function according to the rules and the exercise on Wednesday will be an exercise within the rules and we'll see what the outcome is and I am prepared to live with the outcome."
His attention was then drawn to his remarks last week, with questions on whether in hindsight he believed he took it too far.
To this he said: "I don't want to comment on that to prejudice any issue particularly for Wednesday. I prefer to allow the opposition to proceed based on what they will present to Parliament and of course I expect the government to proceed accordingly and we'll see what the outcome is.
"In any event if I am returning, I intend to continue to enforce the rules and to be impartial in doing so and I will continue."
Asked whether he would apologise as those in the PLP have demanded, Mr Moultrie said: "We'll discuss that on Wednesday. If and when I am returned on Wednesday I will deal with all those matters."
Yesterday, the House of Assembly met briefly with Leader of Government Business Renward Wells explaining to parliamentarians the intent of meeting was to ensure all MPs attended when the House reconvenes.
He said: "Given the gravity of what the leader of the opposition intends to do Wednesday, the government is obliged to see to it that all members are here Wednesday and that motion is going to take precedence over the entire House agenda as state the House rules and so we saw it fitting that we would have this Parliament today so that all members will have a right to be here Wednesday and we could get on with the business of this House."
Mr Moultrie later explained that Englerston MP Glenys Hanna Martin would have been allowed to enter the House yesterday, while all other opposition MPs would be eligible to attend the lower house Wednesday.
Mr Moultrie suspended Mrs Hanna Martin nearly two weeks ago, while Cat Island, Rum Cay and San Salvador MP Philip "Brave" Davis, Exuma and Ragged Island MP Chester Cooper and South Andros MP Picewell Forbes were suspended last week for two sittings.
She explained in a press statement yesterday her decision not to attend the House was a symbol of solidarity with her colleagues.
The sitting yesterday also saw the parliamentary chaplain lead MPs in a special prayer for peace.
Yesterday Mr Moultrie also said he is not concerned about Senator Fred Mitchell's threats to seek compensation for what Mitchell called a "blood libel" against him.
"When Jesus walked the face of the earth even as the saviour, people said things about him," said Mr Moultrie. "So I have no problem.
"I am reminded of my grandmother's statement: sticks and stones may break your bones, but words can never hurt you. So I am not concerned. All is forgiven. I understand the spirit of which it was done."