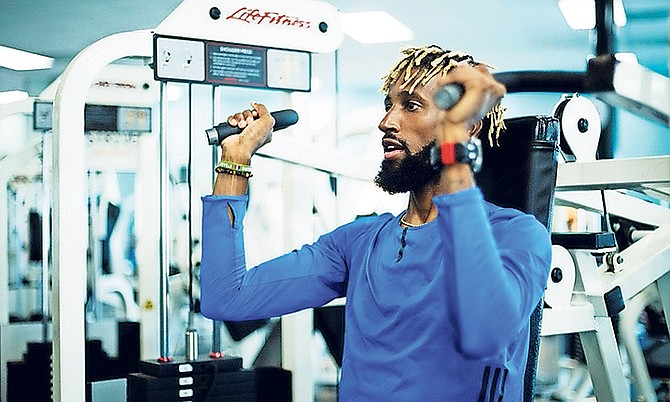 By BRENT STUBBS
Senior Sports Reporter
bstubbs@tribunemedia.net
JAMAL Wilson feels his consistency in the men's high jump this year will enable him to go to the IAAF World Indoor Championships and compete very well against the rest of the top-notch competitors next month.
Over the weekend at the 2018 Samford Invite at the Birmingham Metro CrossPlex in Birmingham, Alabama, Wilson matched his personal best of 2.31 metres or 7-feet, 7-inches to clinch the title.
The performance came after Wilson was also hampered by the flu in the week leading up to his trip to Alabama. Despite the challenge he was faced with, Wilson said he's pleased with his progress.
"It was just a good time. I went there knowing that I had a job to do," said Wilson of his feat that placed him tied with fellow Bahamian Donald Thomas, American Erik Kynard and China's Yu Wang for seventh place on the 2018 indoor performance list that is led by world and Olympic champion Mutaz Essa Barshim of Qatar with 2.38m (7-9 3/4), done on February 1 in Tehran, Iran.
"I feel like I executed everything correctly in terms of travel. My training was a little rough that week because of the flu, so I kind of lost a little bit of strength, so I was re-strengthening myself going into the meet.
"My legs were a little tired at the meet, but I felt good and I felt confident that I knew exactly what I had to do in the competition and when the gun started and the competition began, I just felt like everything was clicking and the jumps felt easy."
Although it's not official, Wilson is confident that he will make the top 12 spots that will earn him the trip to Birmingham, England for the IAAF World Indoor Championships, scheduled for April 2-4.
"I feel great. I feel really confident, not overly confident. I feel prepared. I just feel like I just kind of show off what I got going on here," Wilson said.
"I have three weeks to prepare to give myself a great opportunity to compete at the Worlds." The good thing is 29-year-old Wilson is currently sitting tied for the top spot on the world standings for the outdoor season with his 2.28m (7-5 3/4) that he cleared here at home on January 27 with Hup Wei Lee of Malaysia, duplicated the feat on the same day in Canberra, Australia.
"Even though I did the world leading mark, at no point and time the weather was good, at no point and time, the meets were organized, the timing was always off and sometimes you had to wait a whole day," Wilson pointed out.
"It could get rough at times, but I'm thankful for those meets because I didn't get to go to the European meets like I wanted too because of an error on our side. But I feel grateful that I got to compete at home and I was able to post the best jump in the world outdoors this year."
With this bring what athletes are calling an off-year without the Olympic Games or the IAAF World Championships on the agenda, Wilson said whatever is there to be taken as a title or to compete for the country, he wants to be there.
The biggest meet of the year is the Commonwealth Games, slated for April 4-15 in the Carrara Stadium, Carrara, Gold Coast, Australia. Later in the summer, the Central American and Caribbean Games will be held in Barranquilla, Colombia from July 19-August 3.
"Commonwealth is a definite and whatever there is down the road," Wilson said. "So I'm looking to have a really exciting year and winning as much hardware as I can."
Wison said he's been blessed with an amazing talent and he's not going to overtrain or anything, but he will just allow God to control of his future.
"I don't have too many people in my corner, who I call my friends, other than my family and I don't really go outside like that for entertainment or to have fun," he stressed. "So I've been preparing myself to have a really good season."
As he prepares for the future, Wilson said he will be walking by faith and "whatever God decides to give him on that day of competition, I will just take it."
With a personal best of 2.30m (7-6 1/2) outdoors that he accomplished last year, Wilson said he felt that with the assistance of his long-time coach Ronald Cartwright, the sky is the limit.
Wilson said Cartwright is considered a close friend and mentor because they do so many things together off the field and that has been the key to their success together as a team.
Although they have a vast difference in age with Cartwright at 80 his senior, Wilson said they don't allow it to get to them because, at the end of the day, they still have a job to do.
"He's performing at the level that he should be," Cartwright said. "He's been working very hard and so he's jumping at the level that he should be jumping.
"I expect that he will only to have great success this year because he's well prepared and he wants to perform at his best. I know that if he goes to World's, he will definitely make the finals and once he does, he could be on the podium (as a medalist)."
And once World's is going, Cartwright said the focus will be on the Commonwealth Games where Wilson could go head-to-head with Thomas for the title.
"That's just how confident I feel about his potential this year," Cartwright proclaimed.