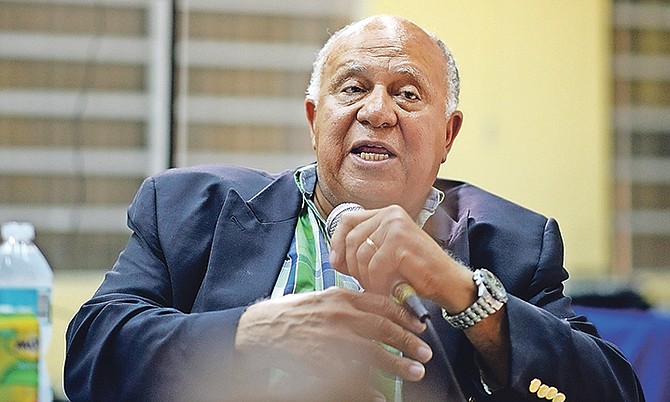 By MORGAN ADDERLEY
Tribune Staff Reporter
madderley@tribunemedia.net
CHILDHOOD trauma, anger, dysfunction and abuse are some of the reasons behind prevalent teen violence in The Bahamas, according to members of The Family: People Helping People, an interventionist organisation.
According to distinguished psychiatrist Dr David Allen, the group's founder, the average age of a murderer in The Bahamas is between 16 to 25 years.
Such a disturbing statistic is what inspired Dr Allen to create the organisation that seeks to help young people "deal with their anger before their anger gets them".
Spearheaded by Dr Allen, The Family consists of a "passionate team of community leaders", including chief therapist Denie Fountain, community outreach therapist Mark Beckford and director of research Keva Bethell.
In a recent interview with The Tribune, these individuals discussed the factors behind the epidemic of youth violence in the country, the goals of the programme and the organisation's recommendations for holistic, nationwide solutions to crime.
"What happens in childhood traumatises you in adulthood," said Ms Bethell.
Her research has confirmed that anger, violence, grief, relational dysfunction, abuse and depression are the six major issues contributing to the epidemic of teen violence in The Bahamas and elsewhere.
She uses three tests which are administered to The Family attendees to help draw these conclusions.
In a previous interview, Dr Allen told The Tribune: "The interesting thing which is really fascinating for us is that we find these young people are deeply hurt. They have really socially deprived backgrounds, but… they are depressed (and) they have a high rate of anger.
"But the sad thing is, on the (PTSD) test, 86 per cent of them score in the danger realm. Which means that already, they are so deeply hurt in their hearts, they have murderous rage, they have poor impulse control.
"So when put together in a group, through the herd instinct, they could hurt people or kill."
Although all are invited to attend, The Family is a court-ordered adolescent programme. Young people can attend sessions for six months to two years in exchange for their legal consequences being eliminated.
However, the leaders were quick to clarify that The Family "(is) not a sentence, it's a development".
Since its inception in 2016, over 120 young men and women have participated in these sessions.
The bi-weekly youth sessions include individualised therapy with Ms Fountain and group therapy with Mr Beckford. Topics range from anger management to communication skills.
The weekly parents' sessions help adults understand their children's language -- from "the silent treatment" to larger cries for help like self-harm.
Mr Beckford also makes a point to go out into communities and meet attendees on their own turf.
He told The Tribune: "If you're drowning, you (don't) drown in the boat. You drown out there in the water. So now if the kids are drowning out there, who's going to swim out there to save (them)?"
These findings have also inspired The Family to make national recommendations to solve crime.
These include a Citizen's Security Council, which would be an intersectional organisation that treats crime as "not just a law enforcement problem" but also a public health issue. It should include representatives from all sectors of society, including the private sphere.
Other suggestions include seeking international solutions to crime, implementing mandatory national service, and instituting curfews in high-crime zones.

However, prevention is still central to The Family's message. As Ms Fountain said: "We've had a good number of kids that passed through the programme already and… we've seen a lot of turnaround in them. We know we can't reach all, but realise that if we reach one, we could make a difference."