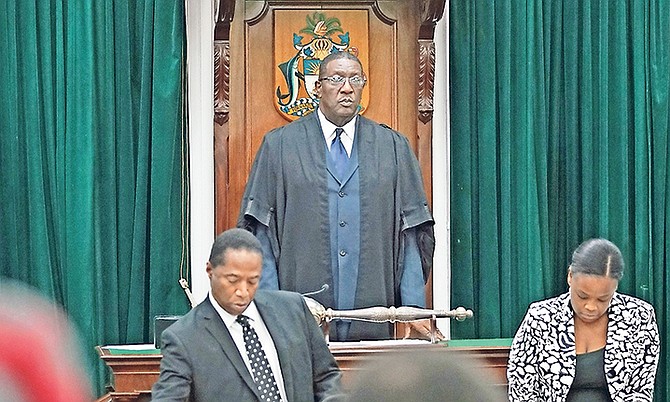 By RASHAD ROLLE
Tribune Staff Reporter
rrolle@tribunemedia.net
SEVEN days after his controversial comments helped push policy debates in the House of Assembly to the sidelines, House Speaker Halson Moultrie apologised yesterday for his attacks.
His apology came after the governing party passed a motion affirming its confidence in him as Speaker, having amended the opposition's earlier resolution that sought to declare no confidence in his leadership. 
Twenty-six MPs supported the FNM's affirmation of confidence in the Speaker, four voted no, seven were absent and one abstained from the vote.
Mr Moultrie's apology was the final act to a whirlwind day of debate that involved staunch defence of him from governing party members, excoriation from PLP MPs and a warning from Pineridge MP Frederick McAlpine that if his FNM colleagues behave like their predecessors, Bahamians will conclude: "Same script, different cast."
After the vote - and in reference to his comments last week - Mr Moultrie, pictured, said: "My response from the chair was not an appropriate response. I am indeed very sorry that it occurred and that it precipitated the bitterness and resentment that followed…
"I was wrong for getting in the flesh... I allowed myself to get in the flesh and out of character on the 7th of February 2018. I said things that I should not have said. I realise now that some of my words were hurtful and some words opened the door to be construed in a way that they were not intended.
"And the member for Cat Island, Rum Cay and San Salvador, who has known me for years, we share a mutual best friend, he is fully aware that I didn't intend to attack his wife. That is just not the kind of person I am or want to be. Everyday, my wife and I, we say the Lord's Prayer to end our morning devotion, but alas, I am not a perfect man, but I am trying to get there."
He added: "I've already expressed my forgiveness in the past two days for those who felt that I harmed them and my family and I, we're at the stage of our lives now where we understand the importance of relationships. My pride will not stand in the way of my love for the relationships that I engendered over the years. And as a country, this Bahamas, my pride will not stand in the way of God's purpose for my life.
"I did not ask for this job. Matter of fact I told the prime minister on a number of occasions that this is a lonely, isolated job. But I believe that I was chosen for this job for such a time as this. It is important to me and our children that we show them we can agree to disagree but in an agreeable way.
"Members of the minority party, you are an important plank in our developing democracy. The parliament has voted an expression of confidence in your humble servant by majority and I think we are all reasonable men and women who are able to reason together in the best interests of the institution of this parliament and our nation. I have already forgiven you and I say let us now seek conciliation together so we can now get on with the people's business."
Hours before Mr Moultrie's apology, Bamboo Town MP Renward Wells, leader of government business in the House, appeared to deliver his party's official response to the opposition's efforts to condemn the Speaker. In introducing their counter resolution to the PLP's motion, he said Mr Moultrie had "restored the honour, dignity and respect to the High Office of Speaker." 
Buoyed by encouragement from his colleagues, he argued the PLP caused the controversy, citing words of PLP chairman Fred Mitchell as purported evidence that the PLP conspired to make the FNM overreact. 
"It was planned and orchestrated with the intent of getting the government to overreact, thereby giving the opposition a cause to grandstand and to derail the government's agenda," he said. Mr Mitchell later released a video accusing Mr Wells of being "lost in space".
Prime Minister Dr Hubert Minnis, in his first address on the controversy, blamed the PLP for "deliberately disrespecting the chair and challenging the authority of the Speaker despite "having been roundly rejected by the people in the last election." He said the PLP has sought a declaration of no confidence against two previous Speakers.