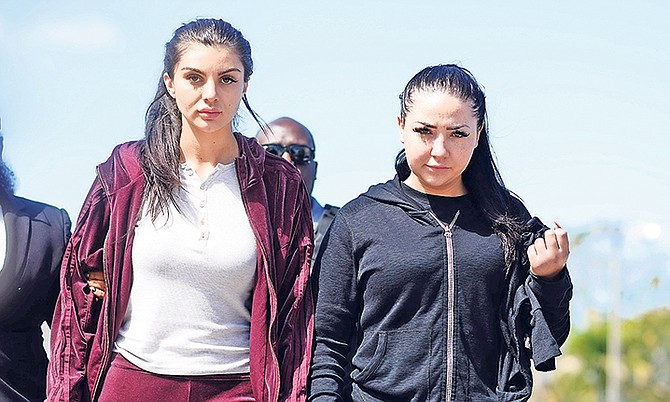 By NICO SCAVELLA
Tribune Staff Reporter
nscavella@tribunemedia.net
TWO Canadian exotic dancers were yesterday fined $1,000 by a magistrate for using the room key of a man they met at the Atlantis resort to fraudulently obtain over $4,500 worth of meals, drinks and merchandise from various outlets at the Paradise Island destination.
Natasha Stolove and Sydney Mills, both adult entertainers, avoided a custodial sentence after pleading guilty to 11 fraud-related charges stemming from them fraudulently obtaining $4,588.70 in assorted items by using Emiliano Alaniz's Atlantis room key between January 13 and 15.
Magistrate Samuel McKinney also ordered the Toronto natives to split the bill in reimbursing Mr Alaniz the funds they fraudulently used – amounting to $2,294.35 each. Failure to pay the fines would result in nine months in prison, the magistrate said.
Both Mills and Stolove were accused of fraudulently obtaining $3,170 in drinks from the Sip-Sip Bar on January 15; another $115 from that bar on January 13; $444.25 in meals from the Nobu restaurant on January 15; meals in the amount of $135 from Olive's restaurant; drinks from Aura nightclub worth $105; meals from Plato's restaurant worth $60; meals from the Marina Pizzeria worth $24.22; merchandise from Discover Atlantis worth $17.73; drinks from the Cascade Bar and Grill worth $12.50; and drinks from Starbucks worth $5.
And upon incurring a debt at the Mandara Spa on January 15, the two also fraudulently obtained $500 in credit.
According to a summary of the facts read by the prosecution, when Mr Alaniz returned to Houston, Texas from Atlantis, he discovered a number of charges had been made to his room that he did not authorise. He suspected Mills and Stolove were responsible as he invited them to his room for drinks one night.
He contacted the Central Detective Unit (CDU) on the matter, and inquiries were consequently made at Atlantis. Those inquiries revealed how Mills and Stolove were both seen with his room key at numerous outlets throughout Atlantis, signing his name and room number to get meals, drinks and merchandise.
The two were ultimately arrested and cautioned in connection with the matter. It was then that they admitted to using Mr Alaniz's card without his permission, but said they obtained only $2,539.36 worth of food, drinks and merchandise with his room key.
Two unknown males who were often seen with Mills and Stolove and who are alleged to have also made fraudulent charges on Mr Alaniz's card, are still being sought by police.
Yesterday, Mills' and Stolove's attorney Alex Dorsett stated while it goes without saying the Mr Alaniz ought to have his funds restored to him, his clients acknowledged their improper actions and were remorseful for what they did.
Adding his clients had not wasted the court's time by pleading guilty at the first opportunity, Mr Dorsett thus asked for the magistrate to exercise leniency in sentencing the pair. 
Magistrate McKinney noted Mr Dorsett's pleas in mitigation and stated he was not minded to impose a custodial sentence on the two. However, he ordered they reimburse Mr Alaniz the total amount of money they fraudulently obtained from him, as well as pay a $1,000 fine.
Upon satisfying the fine, the two will be released and turned over to immigration officials.