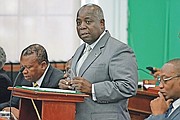 By AVA TURNQUEST
Tribune Chief Reporter
aturnquest@tribunemedia.net
OPPOSITION Leader Philip "Brave" Davis yesterday called on Prime Minister Dr Hubert Minnis to act immediately to confirm someone for the substantive post of chief justice amid heightened concerns from the judiciary.
Mr Davis' comments follow an internal letter to members of the judiciary from senior Magistrate Derence Rolle-Davis characterising the failure to fully confirm the vacant post as a "blatant attack on the judiciary".
Magistrate Rolle-Davis further called on fellow judges to "abandon" their schedules for a meeting of solidarity next Tuesday at the Supreme Court building, similar to action staged in Jamaica.
The letter, dated February 13, was circulated widely on social media and reported in The Nassau Guardian.
Yesterday, Mr Davis explained that he was consulted by Dr Minnis ahead of the appointment of former Chief Justice Sir Hartman Longley as Court of Appeal president in December.
"The PM did consult me of the appointment when he chose to appoint Chief Justice Hartman Longley to the Court of Appeal, and I made inquiries about who then will be chief justice and he said that he's gonna search, he didn't have anyone in mind at the moment, but that he wanted the next justice to be acting until he made up his mind.
"I said it can't be for long, he (Dr Minnis) said no he didn't anticipate it being that long and he recommended Stephen Isaacs and I accepted that. So he's had some time to consider I would have thought by now he and I would be talking about either confirming or if he had any other person. But I have not been engaged as yet."
He added: "It would be an untenable position to just allow this to remain for much longer. We can't let this go on too much longer, we got to get it sorted out right away. At the end of the day it's his (Dr Minnis) choice, we can make recommendations, we can discuss it. If he makes a recommendation that I'm not happy with I can give my reasons but I have already accepted the appointment of Stephen Isaacs, if I think he's suitable to act then it follows I would support a full confirmation."
The Bahamas Bar Association, in a letter to Attorney General Carl Bethel this week, expressed "deep-seated concern and alarm" that Dr Minnis has failed to recommend someone for the substantive post of chief justice.
The letter, dated February 13, came the same day The Tribune reported some senior lawyers are concerned about the matter. Maurice Glinton, QC, Alfred Sears, QC, and Wayne Munroe, QC, have all told The Tribune Dr Minnis' appointment of Justice Stephen Isaacs as acting chief justice should be remedied immediately.
Kahlil Parker, president of the Bar, told The Tribune he did not authorise the public release of his letter to Mr Bethel, and he declined to discuss the matter further when contacted.
Magistrate Rolle-Davis also declined comment when contacted yesterday.
The magistrate's letter read: "This is a blatant attack on the judiciary, the office of chief justice is a sacred post which is protected by the Constitution.
"... What the government seeks to do is undermine the third arm of the government, it means that the chief justice at any time can be taken out of office and done away with," Magistrate Rolle-Davis' letter continued.
"We must be our brother's keeper, anyone of us can be treated in this same callous manner. If we allow the government of any day to treat the judiciary as if it was not independent or impartial to the whims of politics as politicians go and come. We must stand together to fight this ongoing disregard for justice, fairness and integrity."
Last year, the president of the Caribbean Court of Justice (CCJ), Sir Dennis Byron, criticised Guyana's history of filling top positions in the judiciary with people in "acting" roles, arguing such circumstances are beyond "what ought to be acceptable in a modern democracy where respect for the rule of law is maintained."
Controversy also continues to rage in Jamaica where critics have warned that Jamaican Prime Minister Andrew Holness' appointment of an acting chief justice impinges on the independence of the judiciary.
When contacted on Tuesday, Attorney General Carl Bethel noted this is not the first time an acting chief justice has been appointed in the absence of a substantive office holder. "Under the PLP, Sir (Philip) Telford Georges was appointed acting CJ initially," he said.
Sir Philip served as chief justice between 1984 and 1989.
Yesterday, attorney Fred Smith gave his full support to the judiciary to bring an end to a practice he says has been undertaken by successive governments.
"There are equal branches of government and the chief justice is the head of the judiciary and they are all equally important in our constitutional construct," he said.
"You never see a PM being appointed for a six-month period to see how he or she performs, one is either appointed or not appointed, and the practice by both the PLP and FNM for decades of appointing acting judges or magistrates for six months, or 12 months, and in some cases, up to 18 months, undermines the independence of the judiciary.
"It effectively takes away the guarantee in the Constitution that a judge would have security of tenure to protect the judge in his or her ability to act without fear of reprisal by the executive," Mr Smith said.