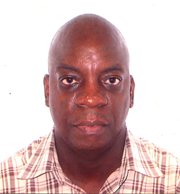 By BRENT STUBBS
Senior Sports Reporter
bstubbs@tribunemedia.net
IN just two short years, the University of the Bahamas Athletic Department, under the directorship of Kimberley Rolle, has made great strides as they prepare for their inclusion into the National Association of Intercollegiate Athletics (NAIA).
Rolle and her team, which includes Sean Bastian, have produced a programme that has yielded dividends as they participate in a number of sporting disciplines in basketball, track and field, soccer and now judo in the United States.
This weekend, UB Mingoes' judo team, coached by D'Arcy Rahming Jr, will be making their initial trip to compete in a tournament in Texas. Rahming Jr said while it's the first for UB, the competitors have all represented the Bahamas before so he's expecting that the team will perform very well on Sunday.
Representing the Mingoes will be captain Kentico Forbes, a black belt, vice captain Desmondo Bootle, a black belt, Artio McPhee, a brown belt, Taryn Butler, a brown belt and Raven Pennerman, a blue belt.
If the performances of basketball, track and field and soccer are any indication, the judo team will have an opportunity to prove that they are just as formidable when they compete this weekend.
It bodes well for UB because it proves that not all of the top athletes have to go to the United States or Canada to compete, but they can do it right here at home.
Just ask the Mingoes best all around athlete Ken Mullings, who vowed after setting the Bahamas indoor heptathlon national record that he intends to accomplish the same outdoors in the decathlon and even make the Olympic Games in 2020 as a UB student.
Too many times our athletes feel that they have to go to school overseas in order to succeed, but with the right environment, they can do it right here at home and Rolle has assured the Bahamian public that they will provide the resources for those who want to accomplish that feat.
Hopefully after staging their tryout for their women's volleyball team last weekend, the Mingoes will have another making its presence felt as they put together a programme that will make them eligible to compete in the NAIA.
Already we have seen some exhibition games played here in basketball, but could you imagine those NAIA teams coming to the Bahamas to match up against the Mingoes in some competitive competitions in the future?
UB is certainly heading in the right direction and Rolle and her staff must be commended for the progress that the Mingoes have made over the past few years. Go Mingoes.
The Best High School
With high school sports in full swing with competition in basketball and track and field, there are two questions surfacing in the sporting world.
Who has the best athletic programme? Who is the most successful school?
Those questions may not get any outright answers as they could be debated in various circles, depending on who you pose them to.
Since the private and public schools broke away and formed the Bahamas Association of Independent Secondary Schools (private schools) and the Government Secondary Schools Sports Association (government), there have been many attempts to bring them all back under one umbrella.
While those efforts have failed, some of the national associations or federations and even both the Ministry of Education, Science and Technology as well as the Ministry of Youth, Sports and Culture have tried to provide a forum where both factions can come together and participate in various national tournaments.
However, even those efforts have not yielded the best results as, in some disciplines, all of the top schools were unable to compete because they are now on two different schedules with the exception of basketball and track and field.There's also the issue of some schools being placed in different categories with some having a junior programme, but no senior and some vice versa. There are very few that have both and so it's hard to rate them in the same category.
So having said that, who do you think has the best athletic programme? And who do you think is the most successful school?
The verdict is still out on these age-old questions as the debate continues from one year to the next.