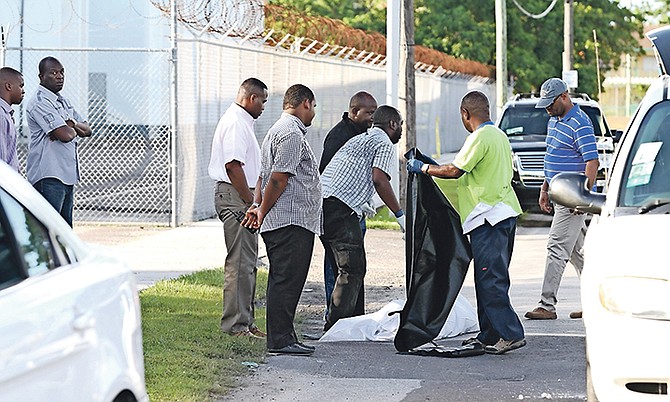 By RICARDO WELLS 
Tribune Staff Reporter
rwells@tribunemedia.net
THE jury in a coroner's inquest into the shooting deaths of Jeffrey Smith and John Aristotle found yesterday their deaths were "lawful" and committed in "self-defence".
Nearly a half hour after being excused by Coroner Jeanine Weech-Gomez to deliberate on a verdict of lawful or unlawful killing, the four women and one man jury was unanimous in the agreement that three police officers, on August 15, 2015, lawfully killed the men while acting in self-defence.
The interests of Smith and Aristotle were not represented by an attorney and no family members attended the proceedings on their behalf.
According to court records, the remains of both men were identified by family members, but once proceedings were announced, none of those people could be located.
The officers involved, Police Corporal Anton Sweeting, Police Corporal Maurice Arthur and Police Constable Benson Miller were represented by attorney Bjorn Ferguson.
Mr Ferguson told The Tribune after the verdict was handed down, that he and his clients were immensely grateful the jurors delivered justice in such a profound way.
Mr Ferguson said: "My clients are extremely elated that this cloud of suspicion that they had to live under for over two years has finally disintegrated and they can now move on with their lives."
He added: "All outstanding questions have now been answered and we hope closure is found."
According to the testimony of Corporal Sweeting, the three officers while on patrol during the early morning hours of August 16, 2015, responded to calls of an armed robbery near East Street and Robinson Road.
Corporal Sweeting said reports indicated a white vehicle was reported stolen at gun point.
He said the unit met a vehicle that matched that description and attempted to stop the car using horns and sirens.
The officer testified that this attempt was ignored, and the vehicle took off at a high rate of speed, at about 70 miles to 80 miles per hour in the area of Claridge Road.
Police reports of the incident said it was at this point Smith and Aristotle, concerned with another armed male, crashed into a tree.
Corporal Sweeting testified that three men exited the vehicle with weapons. He added that upon seeing the weapons being brandished by the men, being in fear for his life and the lives of his fellow officers, he opened fire.
Smith and Aristotle were pronounced dead at the scene.
A pathologist report later concluded that Smith died of a gunshot wound to the head, while Aristotle died as a result of gunshot wounds to the torso and extremities.
Experts also submitted that those wounds were consistent with gunshots sustained by shots fired from a distance.
A third man, Haylay Lightbourn, was transported to hospital and survived the altercation.
James Colebrooke, an officer attached to the Crime Investigation Unit, testified that five weapons were recovered from the scene and examined, however investigators could not say which gun fired what shot. 
The Coroner's Court does not determine guilt or make any findings or suggestions of criminal, civil, or disciplinary liability.
The role of the court is to determine who the deceased was, how the deceased died, when, where and by what means.
Coroner Weech-Gomez said who Smith and Aristotle were, how they died, when and where were all determined throughout the inquest and the jury was only to deliberate on by what means.
The pace of inquests into police-involved shootings has been called into question in recent weeks.
Former Court of Appeal President Dame Joan Sawyer this week expressed a level of concern over the growing length of time between police-involved shootings and the coroner's hearings.
Dame Joan suggested turmoil is being allowed to fester on both sides in the absence of "clear-cut facts which only the law can offer."
There have been six fatal police-involved shootings this year, with the two most recent occurring within a 24-hour period.
Since November 2017, there have been 11 fatal police shootings, according to The Tribune's records.
Last December, Attorney General Carl Bethel called the lack of inquests into police-involved killings and in-custody deaths "distressing" and "unacceptable".
At the time, Mr Bethel said the Minnis administration would deal with the matter aggressively, as he revealed there were about 28 police-related deaths that require an inquest, most of which were "just there", languishing in the system.
His comments came on the heels of a Tribune special report which analysed legacy issues facing Coroner's Court, the Coroner's Act and handling of police matters by the legal system.
Mr Bethel said he would meet officials of his office and Coroner Weech-Gomez to determine whether administrative or legislative fixes are necessary to address the problem.
However, to date, there have been no further recommendations made on the issue.