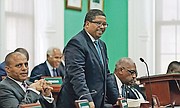 By MORGAN ADDERLEY
Tribune Staff Reporter
madderley@tribunemedia.net
DEPUTY Prime Minister Peter Turnquest said the Free National Movement respects the right of Pineridge MP Frederick McAlpine to speak his mind, adding he did not feel the latter lashed out against the governing party during his address in the House of Assembly on Wednesday.
Instead, Mr Turnquest said yesterday he believes Mr McAlpine's remarks were an attempt to bring "balance" to the House debate.
Mr McAlpine chided the governing party on Wednesday, saying the FNM seemed to be operating like the former Christie administration.
While he said he did not support the Official Opposition's no confidence motion in House Speaker Halson Moultrie, he said "dishonourable conduct" took place in Parliament.
He said: "How can an establishment that is to be so nationally high bring us to an all-time low? How does a place with supposedly honourable men and women display such dishonourable conduct?
"The message the people are conveying is that they've seen this movie before. The cast might presently be different but the plot, the scenery and the performance are very vivid and familiar."
When asked his personal thoughts on Mr McAlpine's remarks, Mr Turnquest told The Tribune: "You know everybody has an opportunity to speak and to speak their minds. Fred made his contribution, and we respect that.
"No I don't think he was lashing out at the party. I think he was trying to create some balance in the debate. And you know, he did it in his own style and we respect that."
During Wednesday's session the governing party passed a motion affirming its confidence in Mr Moultrie as Speaker. Twenty-six MPs supported this vote, the four opposition members voted no, seven government MPs were absent and one, Deputy Speaker Don Saunders, abstained from the vote.
When asked by reporters if those seven FNM MPs did not attend Wednesday's vote to send a sort of message, Mr Turnquest dismissed the notion.
He said: "No, not at all. Not at all. All of them gave excuses. They either had to go back to their island district or they had other commitments that they had to attend to.
"As you know, yesterday was a very busy day, a lot of things going on. You know, contrary to popular belief, we don't stop the business of the country for these kinds of events. We have to continue to do what we're doing, and that's what we're focusing on."
Mr Turnquest was also asked if he believed some of the sitting members were in disagreement with Mr Moultrie's comments.
Mr Turnquest said: "Not at all. I think that the vote yesterday was unanimous, in terms of the support behind the Speaker. And I think that reflects the confidence that we all have as a caucus in the Speaker."
When asked his personal take on Mr Moultrie's comments, Mr Turnquest said: "In order to answer that question you have to go back to the beginning. That is that the House is a House of rules.
"While you know from the outside it might look like it's a free-for-all, there are rules that govern our conduct. And paramount among them is a deference and respect for the Speaker. And so when the Speaker is speaking, nobody speaks. When the Speaker is speaking, nobody leaves the chamber. When the Speaker is giving instruction, you listen.
"And for years now, not just in this session but in the last five years that I've been sitting in Parliament, I've noticed this sort of disrespect if you will for the position of Speaker.
"And so we have this rowdiness that goes on. We're all human, and sometimes we react in different ways. So I think the Speaker was attempting to assert his authority in the House. I think he did that. He expressed some remorse for some of the comments that he made, I respect that.
"But at the end of the day we as parliamentarians have to respect the authority of the Speaker in order that we have an orderly debate and that we don't get into personal diatribes which can then lead to escalating feelings that can go outside of the House.
"And that is the whole idea of the rules of the House, is to ensure that the members speaking speak to the Speaker, rather than to individuals, and that we stay away from any kind of personal invectives that may cause personal injury.
"And so again, I think the Speaker handled himself well. He may have made some comments that may have been in his own admission a bit personal, and he has apologised for those, so we leave it there."
Mr Turnquest was also asked by The Tribune if he believes the Minnis administration is living up to its promises thus far.
"Oh, absolutely," he said. "Again, we've become a sort of an 'instant' kind of generation, but it doesn't happen that way unfortunately.
"And so we are doing a lot of work behind the scenes trying to get this economy back on a right footing and growing, trying to get social order back intact with respect to crime and housing and education and all of these things that have an effect on the quality of life. We're doing a lot of work."
Last week, while defending his decision to name and suspend Englerston MP Glenys Hanna Martin from the House, Mr Moultrie launched into personal attacks against members of the PLP, former House Chief Clerk Maurice Tynes and hit out at the nationality of the foreign wife of PLP Leader Philip Davis.
He apologised for the remarks on Wednesday.