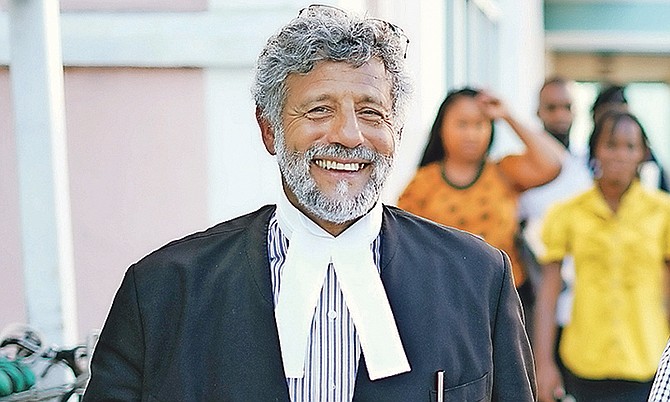 By AVA TURNQUEST
Tribune Chief Reporter
aturnquest@tribunemedia.net
RIGHTS Bahamas president, attorney Fred Smith yesterday pledged his organization would file a suit against the government before two international human rights bodies, the Inter-American Commission on Human Rights, and the United Nations' Human Rights Commission, over what he characterized as repeated abuses by the Immigration Department.
In a statement to the media following Supreme Court Justice Gregory Hilton's ruling on the government's stay application in the high-profile matter of Jean Rony Jean-Charles, Mr Smith became emotional as he explained his motivation for defending human rights.
"I fight for rights in the Bahamas because having been born in Haiti," he said, "having grown up in Haiti and having experienced human rights abuses there, I'm not going to allow my country, the Bahamas, to become a little Haiti."
Mr Smith again echoed parallels to fascist practices in Germany against the Jews during Nazi rule before World War II, a repeat metaphor he uses to illustrate the importance of an intervention to what he claims is an escalating abuse of power.
He charged he would do everything in his power to block a similar situation to occur in the Bahamas, or for it to become a militarized dictatorial state as seen in Haiti's past.
"I'd like to send a message to the government Rights Bahamas is going to take these cases before the Inter-American Commission on Human Rights and the United Nations Human Rights Commission," he said, "to sue the government internationally on the basis that even though the Supreme Court of the Bahamas has again, and again, and again, and again, and again, in dozens of cases continue to affirm the right of every person to due process in the Bahamas, Immigration continues to simply ignore the constitution, the Criminal Procedure Code, and the Immigration act, and the judgments of the Supreme Court.
Mr Smith continued: "We cannot in the Bahamas allow an organ of government, the Immigration Department, to continue to ride roughshod over everybody's rights. It's no longer an Immigration issue. The yellow bus stops you and you and you, all of us, at the bridge on Paradise Island, at every roundabout on the roads."
Mr Smith maintained his advocacy that persons born in the Bahamas be granted citizenship, barring extreme circumstances like links to terrorism.
"And we should stop arresting people born in the Bahamas, people belong where they are born," he added.
"How perverse is it that our government should be giving thousands of work permits to Haitians born in Haiti to come and work in the Bahamas, when they are hunting people born in the Bahamas of Haitian descent and expelling them illegally back to Haiti does that make any sense, I say no."
The Bahamas government was called before the Inter-American Commission on Human Rights (IACHR) for a hearing on the impact of its November 2014 policy, and conditions at the Carmichael Road Detention Centre.
The IACHR requested the county adopt precautionary measures to "safeguard the lives and integrity of detainees held at Carmichael Detention Centre, including providing better hygienic conditions, medical treatment for detainees, reducing overcrowding, access to legal assistance, and allowing civil society organizations access to Carmichael to monitor conditions."