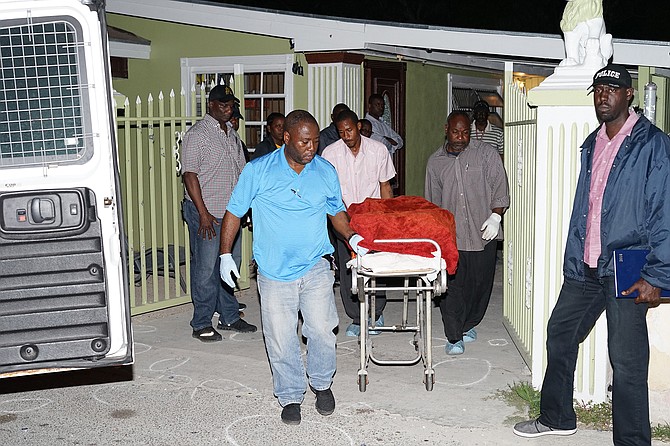 By NICO SCAVELLA
Tribune Staff Reporter
nscavella@tribunemedia.net
POLICE are investigating the circumstances surrounding two separate shooting incidents that occurred in the Pinewood area between Friday and Saturday, one of which resulted in one person dying on the scene and another in hospital.
Their deaths push the country's murder toll to 15 for the year, according to The Tribune's records. Both shootings, which occurred within a 24-hour window, sent five people to hospital – including one of the men who died – three of whom were said to be in stable condition.
This comes after another man was killed early Friday morning, after being found stabbed to death at Potter's Cay Dock.
According to police, shortly after 8pm Friday, a group of men were gathered under a car port at a residence on Saffron Street, Pinewood Gardens, when two men armed with firearms drove up to the residence on a scooter.
The two gunmen subsequently fired shots in the direction of the men, hitting all three of them before fleeing on foot.
One of the men was confirmed dead on the scene. Paramedics were called to the scene and transported the other two men to hospital in serious condition. A short time later, a second victim was pronounced dead at the hospital.
Approximately 24 hours later, three men along with others were attending a post funeral event on Buttonwood Avenue in Pinewood Gardens when the occupants of a silver coloured Nissan March pulled up and fired shots in the direction of the crowd, injuring them, before speeding off.
The victims were taken to hospital and are listed in stable condition.
Police said they are following significant leads in the matter and "all efforts are being made" to arrest those responsible.
Investigations are ongoing.
On Friday morning, a man was found dead with stab wounds on Potter's Cay Dock.
Police said they received a call that a man was found unresponsive at a stall on Potter's Cay Dock shortly before 5am. Officers, along with EMS personnel arrived on the scene and attempted to deliver CPR, but were unable to revive him.
He was pronounced dead on the scene.
Anyone with information on any of these incidents is asked to call police at 919, 502-9991 or the Crime Stoppers hotline at 328-TIPS.