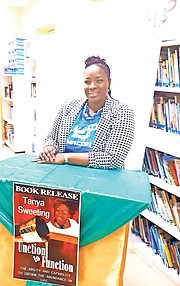 By JEFFARAH GIBSON
Tribune Features Writer
jgibson@tribunemedia.net
With a passion to see Bahamian women enjoy a satisfying and fulfilling life that comes from being empowered, Tanya Sweeting, under the umbrella of the New Image Ladies organisation, hosted a special symposium in Cat Island last week.
With the theme "Unction to Function", and as the first symposium of the year, the New Image organisation sought to open the minds of participants to
"We focus on pricking the minds of our ladies and sparking their innate ability or providing tools to further enhance their abilities. The symposium also highlighted the unction to operate in these abilities, all geared to drive ladies to 'walk the talk' and function as strong, beautiful and leading ladies as they are," Ms Sweeting told Tribune Woman.
There were presenters from both Nassau and Cat Island, who partnered with the participants to positively impact the nation.
"At New Image, we always approach the holistic view of a person and so there were other topics addressing the function of a lady, such as 'Budget Better' , 'The Power of Love', 'I Am What You See' and 'You are a Winner'," she said.
The theme for the symposium was adapted from Ms Sweeting's latest book, "Unction to Function".
In the book, Ms Sweeting reminds readers that they can utilise their gifts once they allow themselves to be directed by God.
"The 'Unction to Function' addresses those who are really pressing and somewhat missing in the world today. The information in the book helps bring perspective to the challenges that we face," she said.
"From a young age, growing up in the church, I heard a popular local preacher say very often that you have the unction. I always wondered what he meant by it. First I thought it was a word that he just made up. I didn't understand that he was speaking about something very positive. Unction sounds like an action word, so it means that I must get ready or prepare myself to do something."
After digging a little deeper and studying the Word of God, Ms Sweeting said she received a great revelation, which she then turned into a book.