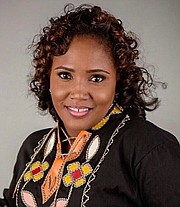 By FELICITY INGRAHAM
When I was asked to pay a visit to the man they call "the mayor of Fox Hill" as he prepares to be consecrated to the Bishopric, I wasn't ready for the surprise. No flashy car and lofty mansion here. Rather, I met a humble man and his wife – lovers of nature with a nest full of plants and animals and big, open hearts. Their humble abode is filled with precious memories of the love they have shared over the decades with their six children. There is a sense of peace and contentment – and it's apparently worth more than gold.
Rev J Carl Rahming and his wife, Evanglyn (nee Butler) own a large acreage just off of Bernard Road. Fruit trees abound, including sapodilla, several varieties of mangoes, guinep, and juju, as well as bananas, tomatoes and pigeon peas. You can find turtles in the pond, cats and dogs and then a most interesting cage filled with creatures that usually run wild – raccoons. They are his favourite pets and I stood in the cage in awe as he interacted with them. I chose to keep my hands to myself. I would see lots of raccoons scuttling across the tops of the trees when I was growing up in Winton Meadows. But this is the first time I saw them up close - and tame.
Rev Rahming latched the cage gate after feeding them, then told me I should have come in the evening to watch them play dominoes… I am still wondering if I should take him up on that.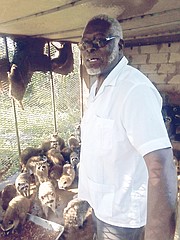 He was born in the Fox Hill community and has never left, and he has probably been catching raccoons in this area since he was a little boy. He was born in Congo Town in the 1940s when donkey cart roads were still in use. The winding, narrow streets of Fox Hill are indicative of that period in time and are really just a slight widening and extension of the pathways to the market in town.
This was a time when kids entertained themselves with the likes of ring play, hop scotch, moonshine baby and spinning top. They would spend an hour in the field doing farm work, go to school bare footed and then return to the field right after school was out to continue work until sundown. In this way, everyone played a part in the success of the family.
Fox Hill is so very well known for sapodilla, and Rev Rahming said his parents were able to send him to school off the proceeds of these delicious fruit. He often went to town with his grandmother and would sell the fruit to buy his uniform, books, other necessities including his "Fox Hill Day outfit" – to this day it is one of the most significant events in the community for the year.
Rev Rahming pastors at St Paul's Baptist church on Bernard Road, just west of the Fox Hill Park and parade in one of the most historic parts of the community. The church began in August 1870 and before his arrival, all of the leading pastors from that time until just a few years ago, were all from the Roker family. Rev Rahming broke the trend yet maintained the spirit of St Paul's – a church that is involved in the community, doors open daily for members and non-members, and a mission to seek and save "the lost" and bring them into the Baptist family fold.
"When I was a little boy, I used to say that I would either be a comedian, politician, or minister (of the gospel); I guess I chose the latter," Rev Rahming chuckled.
"I would find something like a gown to put on, to use as a robe, and I would climb the sapodilla tree. I would be reciting scripture and things I heard them say in church or in Sunday School and the sapodilla tree would be my pulpit.
"My parents and grandparents would always encourage me and say that I would be a preacher someday."
By the time he was 13, Rev Rahming had made a full commitment to the church he now leads: "It was a Wednesday night in July… simultaneous revivals were being held in the various Baptist churches by the Southern Baptist missionaries Vacation Bible School. The missionaries came from America. I gave my life to Christ that night and there was no looking back."
By the time the young Junior was 17 years old, he had become an official Sunday School teacher. By the time he was 19, he was ordained in a special service at Bethel Baptist Church on Meeting street. He would return to St. Paul's in his native settlement as a young Deacon with bright hopes for the future. In 1969, the Baptist convention led by Rev H W Brown sent him to pastor the Progressive Baptist Church on Brougham St. He served there for 12 years until he returned to his home church. All the while, he never left his homestead in the tightly-knit community of Fox Hill and still visited St Paul's regularly.
"I've been with this church all my life," he said.
His future started quickly after he met Evanglyn, who lived in the Anne's town community not too far away. They were married when Junior was 20 and throughout the years, they managed to build a beautiful yet humble homestead.
Mrs Rahming made most of the decorations in her home by hand, and has lovely flowering plants donning her front yard. She minds the herbs and seasonal vegetables around the house, while Rev Rahming likes the field and tends to the fruit trees and of course, his raccoons.
Five of their six children made it to adulthood and have their own fulfilling lives.
It seems that everyone in the Fox Hill community knows how to find this couple, whether at home or church. I spent time with them at both locations and found that people were coming in and out for various reasons, to get some kind of assistance, throughout my stay. Looking on the outside, you may say this couple is of humble means, but their pot of love is so full and somehow, they always have something to give. They even sent me away with fruits from the garden and plants to beautify my lawn.
Rev Rahming has adopted a simple formula – God, family, community, country.
"I think I was destined… sometimes you don't understand what's happening. It has always been my desire and I think it was the will of the lord. I answered the call and I have no doubts in my mind that the Lord is leading me and this is where I want to be. We have had a successful walk, we have had our ups and down but I think I have been highly favoured and the Lord brought me through. I have been in the pig pen, but the lord brought me out and today I could say that I am more than a conqueror… I proudly serve as the seventh pastor."
He lives his life in such a way as to inspire others, especially young Bahamian men, to follow in his footsteps, especially in light of a murder and violence trend that continues to rock the nation. There was a time when the Fox Hill community was in mourning as a mass killing happened right on their doorstep. In December of 2013, gunmen opened fire at a community event on the Fox Hill Parade and took the lives of four people while injuring many others. The peaceful event was rocked by a barrage of bullets.
"I don't think we in Fox Hill have really caught ourselves from that yet," Rev Rahming says.
"A community that is not Christ centered is doomed," he advised.
"I encourage young men to take an inventory of their lives. It's not too late. You can turn your life around and make the best of it from any point. Drinking is not the answer. Fornicating, spinning, cursing, swearing – they are not the answer. Salvation is without money, without price."
As he prepares to take on the mantle of Bishop next month, St. Paul's issued this statement: "His visionary leadership; his selfless, faithful and effective ministry; his genuine and proactive love of his fellowmen especially his congregation, ministerial colleagues and Fox Hillians; his humility and compassion; his readiness to forgive and seek forgiveness which are exemplary characteristics and values have inspired the Ministers, Deacons, Officers, Auxiliary leaders and members of St Paul's Baptist Church, Bernard Road, Fox Hill to support Rev. Dr. J. Carl Rahming to be consecrated as Bishop."
He has ministered mostly from Fox Hill but also around the world. He visited several countries Africa and the Middle East and learned the traditions of ancient Kemet. He was honoured for leadership excellence by Senator Jackie Vaughn III in Michican, USA and by Mayor Coleman Young of the City of Detroit in a separate award. He formerly served as President of the Bible Society of the West Indies. The Bahamas National Baptist Convention held the 'Rev Dr J Carl Rahming Parade' in 2016.
He credits his mother, the late Doris Whyms and grandparents Bernice Dorsett and Leonard Rahming for their inspiration on a path that for him, has stood the test of time – one committed to loyal service, starting with his own community first.