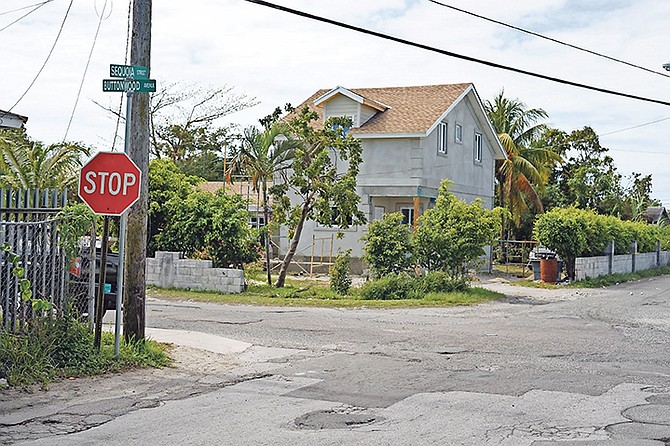 By MORGAN ADDERLEY
Tribune Staff Reporter
madderley@tribunemedia.net 
PINEWOOD Gardens residents have been left shocked and in fear following the weekend shooting spree which left two people dead and four injured.
According to residents, who did not want to be named for fear of retribution, the two men shot dead on Friday night were riddled by a hail of bullets while they were playing a game of cards and were not involved in drugs.
As they come to grips with the "senseless" violence, those who live in the community told The Tribune they are afraid to loiter outside their homes or drive through certain streets at night.
According to police, the first of two shootings in the area occurred shortly after 8pm Friday. A group of men were gathered under a car port at a residence on Saffron Street in Pinewood Gardens when two men armed with firearms drove up to the home on a scooter.
Three men were shot. One was confirmed dead on the scene while the other two were taken to hospital, where a second man later died.
According to police, the victims of Friday night's shooting were Deshawn Symonette, 28, and Rashad Bethel, 27.
An area resident said he was at the scene and escaped by crawling to the home's doorway as bullets flew overhead.
He told The Tribune: "We were playing cards right there and two fellas pull up on a motorbike. (The gunmen) never came in the yard. If they did come in the yard everybody in here would've been dead."
According to the resident, the victim who died at the scene, "was laying down right over there on the chair, and I guess when the gunmen come he probably get up, he thinking he saving (himself) but he run right in the hail of the bullets.
"I hit hard against this wall and I crawled…until I get to the (doorway). You see all these bullets gone through the door? All kind of bullets. I (crawled) towards that gas tank, (and) I say 'Jesus Christ, I hope no bullet hit that gas tank.'
"I could hear the bullets whisking over me, because I was laying flat on the ground. I all bruise up (from crawling). Everybody was trying to get through the door. I see the door was crowded so I knew I couldn't make it.
"When I hear the bullets cease, then I get up and I (ran) inside."
When asked how the incident has affected him, the resident said: "We don't even want (to) be out here (anymore).
"You know where I sleep? Last night I sleep on the ground. Because I fear they might come and shoot through the glass," he added.
"I know the police them they say don't worry about nothing, they patrolling they coming around every half hour. But I still scared, man. Scared."
The resident has been living in this community since 1986. Asked his opinion on when crime in the area worsened, he said: "To be truthful there's no crime on this road. Not in Saffron Street. Everybody who you see round here, they (work).
"But we have one or two people who does come from different areas."
 The resident continued: "I have a strict rule inside this yard. No gun, no drugs. And everybody knows that. So nobody come here with drugs or gun."
When asked about his relationship with the victim who died at the scene, the resident began to sob.
Through tears, he said: "I even can't talk about them. The tall fella who get kill there, I trust him with everything. Everything, everything.
"Innocent man. Innocent fella get kill for nothing."
The uncle of one of the victims reiterated this sentiment. The 55-year-old told The Tribune: "He is not a troublesome person, he is not a member of a gang, he is just like you and I.
"A working man, enjoying a game of dominoes. That's it."
He added: "Violence in the Bahamas and violence in these communities, we need to get rid of this violence…this senseless violence."
Another resident also defended the character of the victims, dismissing newspaper reports that they were involved in drugs.
She said: "It has nothing to do with any drugs. Nobody through Saffron Street deals drugs or is in any way involved in any drug activity. It's so sad that people lost their lives here. But to see a statement like that is very wrong."
According to police, the second shooting incident occurred Saturday evening, around 7pm.
Three men along with others were attending a post funeral event on Buttonwood Avenue in Pinewood Gardens when the occupants of a silver coloured Nissan March pulled up and fired shots in the direction of the crowd, injuring them, before speeding off.
The victims were taken to hospital and are listed in stable condition.
A neighbouring shopkeeper told The Tribune how the incident has affected her.
She opened her store on Buttonwood Avenue seven years ago, and moved it "three or four years ago" after a shooting occurred "right outside her store window."
The shopkeeper revealed she had just returned her store to Buttonwood Avenue "three weeks ago," only for the area to be marred by another attack.
She said: "I hope (the violence) is nothing that is going to be continuous. Because last couple years it was ongoing, it was always some sort of mix-up with the younger persons. But now it puts me back in (fear)."
A 22-year-old Pinewood resident also spoke to The Tribune. She said: "I do not feel safe in Pinewood. There's parts of Pinewood I don't drive in at night, because you never know what will happen. So I stay on the main road."