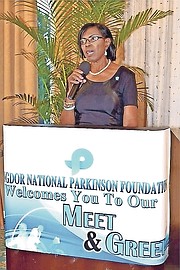 APRIL will be commemorated as Parkinson's Awareness Month around the world. Here in the Bahamas, the Kingdor National Parkinson Foundation has planned several events to educate and sensitise the population regarding the devastation of this debilitating condition. One activity of great significance is the organisation's 18th annual gala ball.
The evening of celebration, under the theme "Kinesis is Life", will be held on Saturday, April 28, 2018 at the Meliá Nassau Beach All Inclusive resort.
The red carpet, black tie event will feature a performance by a world-renowned international recording artist whose name the foundation will announce soon. Past performers have included Grammy Award winner Peabo Bryson and Jeffrey Osborne, who has written hits for musical greats such as Whitney Houston and Dionne Warwick.
Cocktails are served at 6.45pm to 7.45pm, and dinner at 8pm.
"It is expected that the master of ceremonies will lighten up the excitement for the attendees as they experience an evening of elegance, exquisite cuisine, entertainment and enjoyment," said Kingdor founder and chairperson Mavis Darling-Hill.
Throughout the evening, there will prizes and surprises. Raffle tickets will also be sold.
Tickets for the event are $250 and include a four-course meal, entertainment and dancing. Call 326-5291 or e-mail kingdornpf@outlook.com or mavisdarling@hotmail.com.
"Kingdor is committed to bringing great entertainment to our galas as we use the occasion to sensitise the populace of Parkinson's disease," said Mrs Darling-Hill. "There will be videographers and photographers available for your pleasure."
Parkinson's disease is a progressive disorder of the nervous system that affects movement. It develops gradually, sometimes starting with a barely noticeable tremor in just one hand.
Over the years, the foundation has helped more than 1,000 persons by way of organised functions such as training for caregivers, gala events, walk/run competitions and a speech competition for which they train younger persons to understand and learn about the disease.
Mrs Darling-Hill also has a personal experience with Parkinson's, having watched her father, the late Rev Dr King S Darling, struggle with the disease. Even when her father got to the point where he could not buckle his own shoes, she kept him motivated.
After the death of her father eight years following his diagnosis, she along with her siblings and friends banded together to establish the Kingdor Foundation.
It was established in memory of her parents and the name is a portmanteau of their names, "King" and "Dorothy".