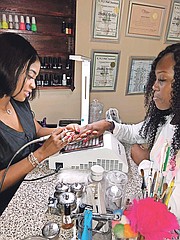 Freeport, Grand Bahama – "Life is too short to wear boring nail polish," say many of ladies who support the $786 million-dollar nail polish industry. Which is why Grand Bahama's newest nail artist is bringing the bling back to nail design. Bling'd 11.11, located in the Circle Mall in Freeport, is the name of Shaquel Reckley's new luxury nail bar.
"I wanted to give my clientele on Grand Bahama Island a brand-new experience," she said. "The Bling'd 11.11 concept is all about offering both men and women with a space in which they feel comfortable and provides a much-needed escape from the hustle and bustle of the day."
Originally from Nassau, Shaquel has spent the past few years perfecting her craft and opted to bring her fresh perspective on nail art and design to Grand Bahama.
"Even though I'm a Nassau girl and I love my hometown, I think Freeport needs an injection of fresh design ideas. I am passionate about being able to share those ideas with my clients" she said.
Over the years, the art of nail design has ballooned into a mega industry allowing artists and clients to collaborate and get creative. As the industry has grown, so have the relationships between nail artists and their clientele.
"Nail technicians are so much more than nail painters, we are motivators, psychiatrists and longtime friends," Shaquel explained. "That's one of the things I love most about what I do. I get to connect with the people that sit in my chair, it's never just about the nails and that makes it even more fulfilling."
Shaquel joins many new business owners in Freeport, working hard to keep the Circle Mall an active and vibrant location. Persons interested in booking an appointment can do so via social media by visiting www.facebook.com/chynadollblingd11.11.