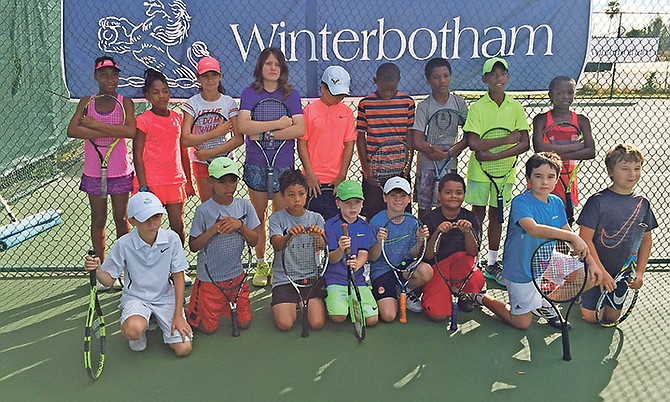 IT was a very busy weekend of tennis for the most promising young tennis players in The Bahamas with every contestant playing five or more matches at the National Tennis Centre.
The first in a series of five 2018 events in The Winterbotham IC Junior Series for 12 & under and 10 & under players had some exciting matches. All contestants played four matches in round robin groups on the first day with "Playoffs" on the second day.
In the older category Michael Major came through as the winner with a final win over Jackson Mactaggart. In the younger age group it was Jerrold Carroll from Freeport with a final win over BreAnn Ferguson.
However, the emphasis on the series is maximum tournament experience for all this group of emerging players with everyone playing five or more matches. This is designed to help development of all this group and promote a new generation of tennis players in The Bahamas without the expense of going overseas. The series moves on to The Lleyton Hewitt Albany Tennis Academy for the second event April 14-15 then on to Baha Mar for the third event May 19-20. This will be followed in October and November with events in Freeport and at The Gym Club. The event, which has BLTA approval, has been developed and is being run by The International Tennis Club of The Bahamas (IC) and sponsored by Winterbotham Trust Company.
There are 40 IC's around the world made up primarily of some of the best players in those countries who, as well as organising senior events, give back to tennis - "the game for life" - through activities such as this. Their motto is "hands across the net, friendship across the ocean" and by talking with all the juniors at these events they are also developing good attitudes as well as good tennis.
All the juniors, their coaches and parents were very enthusiastic about the event and its format with many signing up already for the next event in the series.
More like this story