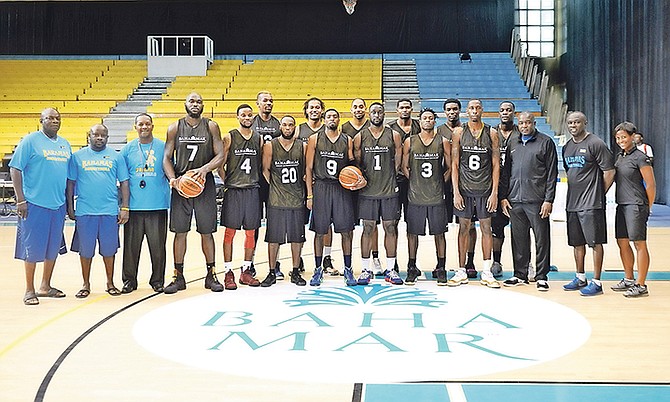 WHEN the second leg of the FIBA World Cup is played on Thursday and Sunday at the Kendal Isaacs Gymnasium, the key word for Team Bahamas against the Dominican Republic and Canada will be defence.
Team Bahamas, with a 13-member team selected, will play the Dominican Republic at 8pm Thursday, following an earlier match-up at 4pm between Canada and the US Virgin Islands.
Then at 8pm on Sunday again, the Bahamas will entertain Canada, while the Dominican Republic will face the US Virgin Islands at 4pm. Those two matches will be preceded by the final four matches of the Hugh Campbell Basketball Classic.
Bahamas men's head coach Mario Bowleg said he likes the defensive makeup of the team, which is hoping for better results than the first leg when the Bahamas lost to Canada in Halifax and to the Dominican Republic here at home in November.
"I think from the practices we had, the guys feel a lot more comfortable," Bowleg said. "Some of the lineups that we as a coaching staff had in mind, has began to change as the players start to perform as each practice goes along.
"The good thing is we have fellows who can defend and put the ball in the hole. Notice I keep talking about that word defence. You have to make stops in order to get out and score."
The Bahamas will carry a team that comprises of Michael Bain, Shavanno Cooper, Leon Cooper, Alonzo Hinds, Abel Joseph, Robert Nortman, David Nesbitt, Jonathan Fairall, Christopher Turnquest, Keno Burrows, Kentwon Smith and Eugene Bain.
Fairall is the last man to join the team and with his performance in the France league where he was averaging double digits in scoring and rebounding, Bowleg said he will make a big difference in the middle for Team Bahamas.
He added that Kenton Smith, who missed the last window, is also shooting the ball extremely well and he's looking for him to make an impact, along with the return of CJ Hinds, who also was missed in the backcourt in November. "We are comfortable and we feel good and ready for Thursday," Bowleg proclaimed.
Famed high school coach from Grand Bahama, Norris Bain, who will be a part of the coaching staff along with Wayde Watson and Quinton 'Three Ounce' Hall, said based on what he's seen in the four practices, the team has definitely been upgraded in terms of the backcourt.
"I think Alonzo Hinds and Leon Cooper will bring a lot of experience this time around and I like the fact that we have a lot of guys that bring some size to the team," Bain said.
"Definitely, we are way better defensively and that is a plus. We are going to get some stops and we will ride our horses down the end. We will have to go with the people who have the hot hands in the game."
If they can make the necessary adjustment to their opponents' style of play, Bain said there's no reason why the Bahamas should not come out of the two games with at least a win or even two.
"I like this team," he summed up.
Eugene Bain, one of those players who will be relied upon to lead the defensive attack, said he's delighted to be back on the team after missing the last window.
"I didn't play in the last window, but I'm just happy and delighted to be able to play in front of my home crowd," he insisted. "I think I bring some more toughness and scoring to the team and that is what we need, toughness and scoring.
"Also, this game, we will need some defense and I hope that bring that and play some defense. We just have to play together and do what our coaches say and should be great."
In the last window, Carey didn't put up the performance that many expected from him. But he has vowed to turn that around as he make the adjustment from coming from Europe where the conditions are slightly different.
"After I watched the games we played and I heard how people have told me that we could have played a lot better, I think we just need to defend better," Carey stressed.
"I like what the coaches are doing this time. They are giving us a lot more freedom to play our role. I think the last time, everybody was just trying to figure out their roles. But this time, the team know what they have to do. It's much more organized, so we really don't have to invent anything."
Carey, now in his rookie year with the Etoile Charleville-Meizeres in France, said he's been holding his own in Europe and he's eager to come home and show the Bahamian public that he's improved on what he did in the last window.
"My league is in the top eight and (Keno) Burrows is in the top two in scoring, but it's real physical. It's different," said Carey, of his team that is in 18th place at 4-15, but he's contributing with an average of 10 points, four rebounds and three assists per game.
"Thank God I have a job. My mother and father have never seen that part of the world, so it gives them something to look forward too. Hopefully, I can get another shot at playing in the NBA, but if it doesn't work out, I still have a job and I get to play basketball for a living."
This week, Carey, 24, said he will be looking forward to playing the systematic basketball that he's known for and if he does, he feel he can help the Bahamas be successful.