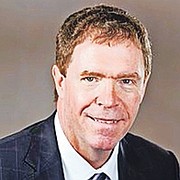 By KHRISNA RUSSELL
Deputy Chief Reporter
krussell@tribunemedia.net
TIM Rider, the Royal Bank of Canada executive who faced backlash from Bahamians after lambasting the educational standards of the country, yesterday announced his intention to retire from the institution.
RBC's senior vice-president of sales' decision was revealed in an internal executive transition announcement to bank staff members, noting his retirement would be effective February 28.
Rob Johnston, RBC's head of Caribbean banking, is slated to assume responsibility for sales for the region on an interim basis, the statement said.
The transition of Mr Rider, pictured, from RBC's operations comes weeks after his inflammatory comments at a Royal Fidelity Bahamas Economic Outlook angered many and stirred wide public discourse.
In a rhetorical question, he asked if The Bahamas is committed to its own success and spoke poorly of the educational standards of the country.
The Bahamas, he said, cannot allow the education "status quo" to persist if it is to be competitive in the global economy.
He also said the education standards and US dolar parity put this country at a disadvantage, because it has an expensive labour pool with inadequate education.
"The single biggest factor, in my view, that is now and will continue to lead to income and wealth inequality in The Bahamas is the inadequate education and training of its citizens," he warned late last month.
He also said corruption, poor fiscal responsibility, detrimental mortgage and lending laws have had adverse consequences for the banking industry, according to an earlier report by The Nassau Guardian.
However, it is unclear whether his decision to retire is connected to his controversial remarks.
Following the comments, Deputy Prime Minister Peter Turnquest told The Tribune he found the statements to be "unfortunate" and "uninformed".
In an interview with The Tribune yesterday, Official Opposition Leader Philip "Brave" Davis said he "certainly" was not pleased with the comments, adding that he wrote to the bank urging officials to take whatever actions they deemed appropriate.
RBC's corporate office in Toronto, Canada yesterday chose not to speak directly to this aspect of Mr Rider's tenure with the bank, telling this newspaper he made the decision to retire after two decades with the institution.
"After more than 20 years with RBC, Tim Rider, senior vice president of sales will be retiring from the bank. We thank him for his contributions and wish him well in his future endeavours," the statement said.
"The Bahamas is an integral part of RBC's Caribbean banking business and we are proud of our 109-year history in the region. Rob Johnston, head, Caribbean banking will assume interim leadership of this important market and support our ongoing journey of transformation and innovation in the Caribbean.
"We cherish the partnerships we have with our clients, employees and communities in The Bahamas and aim to further strengthen those relationships in the years to come."