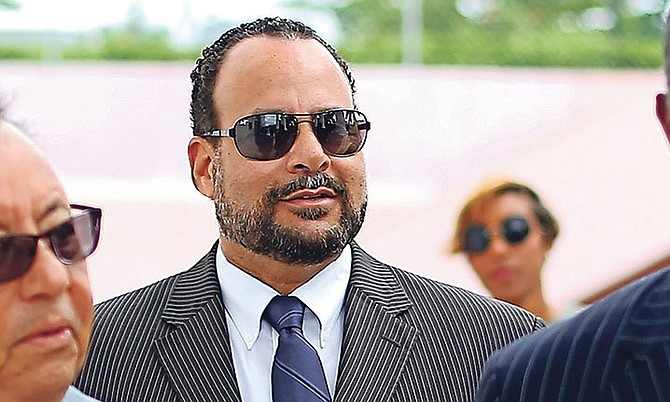 By NICO SCAVELLA
Tribune Staff Reporter
nscavella@tribunemedia.net
FORMER PLP senator Frank Smith's bribery and extortion trial will resume in a week's time after revelations the virtual complainant's health has improved to a level suitable enough for her to continue giving testimony.
In December, Chief Magistrate Joyann Ferguson-Pratt said based on a letter produced by the Crown from Dr Charles Rahming concerning Barbara Hanna, she was "satisfied" that Mrs Hanna would be unable to give testimony for at least six weeks.
Yesterday, however, the chief magistrate said Mrs Hanna's issue seems to have "corrected" itself, leading her to set down February 26 to March 1 for the continuation of Smith's trial.
Smith is facing 15 criminal charges concerning his alleged solicitation of $65,000 in bribes from a woman he is said to have assisted in getting a contract. He is currently out on $50,000 bail.
He was initially arraigned before the chief magistrate in July charged with 13 counts of extortion and one count of attempted extortion and bribery.
It is alleged Smith, between April 2016 and April 2017, in respect of his duties as a public officer, demanded and obtained $5,000 per month from Mrs Hanna, knowing he was not lawfully authorised to do so.
He is alleged to have attempted to extort another $5,000 from Mrs Hanna in May 2017.
Concerning the bribery charge, it is alleged he solicited $5,000 a month from Mrs Hanna for aiding her in getting a contract with the Public Hospitals Authority, where he formerly served as chairman.
Smith pleaded not guilty to all of the charges during his initial arraignment.
During a previous hearing, the chief magistrate said she was "concerned" about Mrs Hanna after the latter suffered an apparent meltdown and expressed frustration over her involvement in the matter.
At the time, Mrs Hanna, while in the witness box, took a seat and remained unresponsive for at least five minutes after repeatedly telling lead defence attorney Keith Knight, QC, she did not "feel good" and was too "frustrated" to answer any more of his questions.
That came after she confirmed she was borrowing money from Pouland Limited, a lending company owned by Smith, at the same time she was allegedly making $5,000 monthly payments to the former PHA chairman.
Those payments, she said in a previous hearing, were made to Smith after he approached her within a week of her being awarded a one-year, $500,000 plus contract to clean the Critical Care Block (CCB) at the Princess Margaret Hospital (PMH) in 2016.
Believing it to be a one time payment, Mrs Hanna said she obliged and gave him the money. Upon doing so, however, she said she was told she had to make monthly payments in the amount of $5,000.
During a hearing earlier on in December, however, Mr Knight not only attacked Mrs Hanna's credibility, but foreshadowed a no-case submission based in part on the allegation that she condemned her own testimony.
The key moment during those proceedings came when Mrs Hanna, without prodding, claimed to have given police documents about Pouland Ltd that the prosecution did not disclose during discovery.
The defence argued the lack of disclosure may mean constitutional provisions on fairness may have been breached. Mr Knight said the prosecution, which he said includes police investigators, were obligated to turn over all documents, no matter their perceived benefit.
The prosecution, after inquiring during a short break whether the documents in question were given to the police, reported that investigators said they were never in receipt of the documents.
Mr Knight thus argued that if the investigators were being truthful, Mrs Hanna's credibility is destroyed. On the other hand, he said if the documents were in fact shown to police as Mrs Hanna claimed, its lack of disclosure puts the defense at a disadvantage.
Mrs Hanna has admitted to taking out two separate loans from Smith's company, one before she started paying him $5,000 a month and one after she began doing so.
She also admitted during cross-examination that she called Smith and warned him that he was being targeted, but did not reveal who she meant.