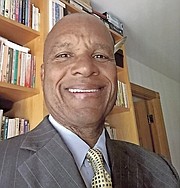 By DENISE MAYCOCK
Tribune Freeport Reporter
dmaycock@tribunemedia.net
GRAND Bahama environmental activist Shuffel Hepburn has expressed shock over revelations uncovered about Oban Energies just days after the signing of a heads of agreement with the government for the development of a $5.5 billion oil refinery in East Grand Bahama.
He accused Prime Minister Dr Hubert Minnis of not doing his homework before the government signed the document with the group for a deal that was shopped around, but did not reach a heads of agreement stage, under two previous administrations.
"The Minnis government has egg on its face as a result of the revelations in Wednesday's Tribune unmasking the past of Oban Energies' so-called officials," said Mr Hepburn, of the Grand Bahama Environmental Association.
"This is a dark day for the people of Grand Bahama, but is consistent with the trend that has been unfolding in The Bahamas, and especially Grand Bahama for many years."
He said foreigners see Bahamians as having a weakness for big talk and bluster.
"They see us as a soft target for big talk with no money behind it," he added.
Earlier this week, The Tribune reported that Peter Krieger, Oban Energies' non-executive chairman, was accused of misappropriating more than $3.7m of investor monies and paid some $110,000 in a civil penalty. He was also named as a defendant in the legal action filed in 2013 by the Bahamas-based judicial manager for a sister company of insolvent insurer, CLICO (Bahamas).
Yesterday The Nassau Guardian reported Mr Krieger pleaded guilty to first-degree felony of organised fraud in 2006, according to a document on the US Securities and Exchange Commission's website.
The July 2007 order made "findings and imposed remedial sanctions" on Mr Krieger and his father Sheldon Krieger, it was reported.
On Monday, when the heads of agreement was signed, Dr Minnis indicated due diligence had been conducted. Officials have also said that they are satisfied the project has adequate funding.
Mr Hepburn, who voiced his objection to the project several weeks ago, said he had also done some research into the background of Oban Energies and its management team.
"(I) was shocked to discover the history of Peter Krieger, Oban Energies' non-executive chairman," he said.
He said from his research, it did not appear that many officials of Oban Energies have any experience in developing oil storage and oil refining plants.
"Now we know why former Prime Ministers Hubert Ingraham and Perry Christie both passed on Oban Energies," Mr Hepburn said. "Prime Minister Minnis did not do his homework and was sucked into the draught," said Mr Hepburn, who believes Dr Minnis is genuinely trying to help Grand Bahama. Prime Minister Minnis is going about it the wrong way. He needs to fix the ills of Grand Bahama first; then the good Lord will bless his efforts."
Mr Hepburn insists that "if these ills are not fixed" Grand Bahama will continue "its downward spiral."
He is referring to problems incurred by Grand Bahama residents who live near an existing oil storage facility and the chemical companies in the industrial park.
The activist said Minister for the Environment Romauld Ferreira promised to meet with the disenfranchised residents in a town hall setting in January which has not yet happened.
Mr Hepburn said his group has been told the meeting will now take place on March 1.
He said that the Minnis government has failed to pay any attention to the cries of the residents who have been suffering the effects of industrial pollution for more than 30 years.
"It's a sad case of neglect," he said, adding Dr Minnis would be wise to call on former Prime Minister Hubert Ingraham for advice in the future.
"He can benefit from the shrewd, sharp eye of the former prime minister. While PM Ingraham has a strong personality, his wealth of experience can no doubt be a big help to PM Minnis and The Bahamas. PM Ingraham can smell a rat from miles away," he said.