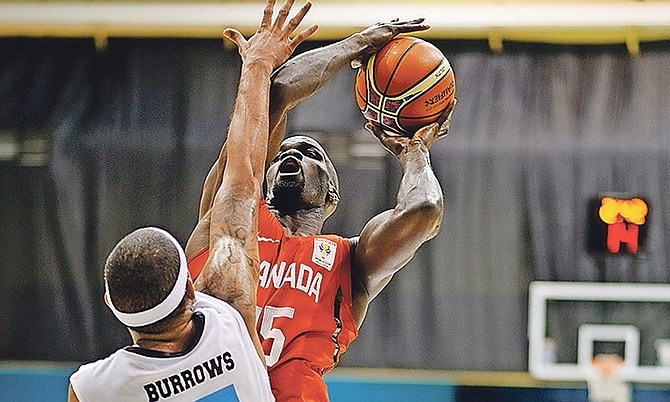 Different venue, same result as the Bahamas senior men's national basketball team lost the rematch to Canada and their fourth game of the FIBA Basketball World Cup – Americas Qualifiers.
Canada improved to 3-1 in Group D with a 113-67 win over the Bahamas last night at the Kendal Isaacs Gymnasium.
Jaraun Burrows led the Bahamas with 17 points, Michael Carey added 15 and Alonzo Hinds finished with eight.
Brady Heslip led five Canadian players in double figures with 19, Melvin Ejim scored 15, Kyle Landry added 14 while Adika Peter-McNeilly, Thomas Scrubb and Anthony Bennett each finished with 10.
Canada shot 16-36 from three-point range and outrebounded the Bahamas by 16. Canada made a three on the opening possession and four of their first five from beyond the arch en route to an early 12-2 lead.
Burrows scored six of the first eight for the Bahamas and Eugene Bain's free throws made it 16-11 with just over four minutes left to play. The Bahamas failed to cut into the deficit, trading twos for threes for much of the period. Burrows buoyed the Bahamas for much of the first, and kept his team in contention with 15 points in the quarter on 6-7 shooting from the field. Robert Nortmann made two from the free throw line and came up with a block on the defensive end as the Bahamas trailed just 25-21 at the end of the first.
The Bahamas was unable to keep pace in the second as team Canada's depth began to have an impact on the game. Canada allowed just three field goals and won the quarter 25-8 to take control for good.
Nesbitt scored the first basket of the second and the Bahamas trailed briefly by just two. Canada responded with an 8-0 run to regain a 10-point lead on a Kyle Landry three-point play, 33-23. Heslip followed with another three on the ensuing possession as the lead continued to expand. Aaron Best's three pointer later in the period gave Canada a 50-29 lead headed into the half.
Canada took a 76-51 lead into the fourth. The lead reached over 30 for the first time on an Anderson baseline jumper, and beyond the 40-point mark when former top overall NBA Draft pick Anthony Bennett made a three-pointer.
The Bahamas lost 93-69 to Team Canada in November at the Scotiabank Centre in Halifax, Nova Scotia. Their final two games will be on the road on Friday, June 29 in the US Virgin Islands and Monday, July 2 in the Dominican Republic.
The 2019 FIBA Basketball World Cup will be the 18th annual tournament for the men's national basketball teams and will be held in China. The seven top contenders from the FIBA Basketball World Cup will qualify directly for the 2020 Olympics in Tokyo.
More like this story