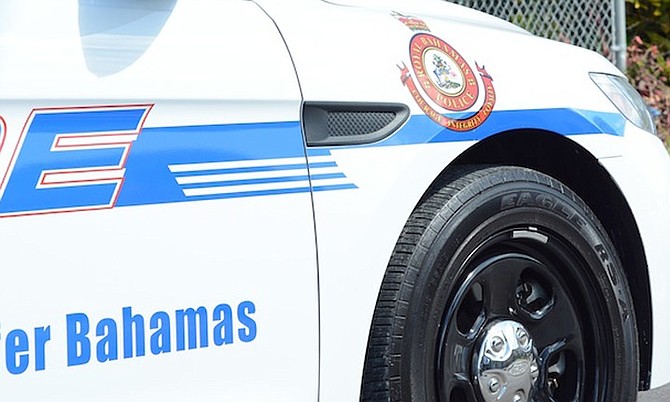 By RASHAD ROLLE
Tribune Staff Reporter
rrolle@tribunemedia.net
A man was killed yesterday when a woman suspected of fleeing the scene of an earlier car crash collided into his vehicle.
Chief Superintendent Craig Stubbs said the shocking accident nearly led to an altercation between the female driver and witnesses who believed she was driving recklessly. He said no decision has been made yet about whether any charges would be brought in connection with the accident.
"Shortly before 1pm this afternoon," Supt Stubbs told The Tribune, "police control received a report of a traffic accident at the intersection on Malcolm Road and East Street."
"The officers responded and determined that a crash involving one of the vehicles, a Nissan Sentra, was initiated at the Winders Terrace corridor and Malcom Road corridor where the Nissan vehicle collided with a Ford white van. The vehicle did not stop at the scene; it travelled west on Malcom Road and upon exiting Malcom Road collided with a Honda vehicle that was travelling south; the impact caused the Honda vehicle to enter northbound on East Street and collide with a Ford F250 truck. The driver of the Honda vehicle was unresponsive and EMS confirmed no signs of life on scene. The female driver of the Nissan was transported to PMH for injuries sustained in the crash; all vehicles were extensively damaged."
Early investigations suggest the female driver of the Nissan Sentra allegedly prompted the accidents and failed to remain stationary after the first incident, Supt Stubbs said.
"We want to sit down and have an in-depth dialogue with her," he said, noting she was conscious and alert when transported to the hospital.
As for the deceased, Supt Stubbs said he was likely driving between five to ten miles per hour or may have even been stationary when the fatal accident occurred.
"All physical evidence on the road's surface and the examination of the extent of damage done to his vehicle suggest he would've been caught by surprise," he said.
Supt Stubbs said all vehicles involved in the crash were registered and properly licenced, though it is too early to say if they were properly insured.
Yesterday's tragedy brings the country's total number of traffic fatalities for the year up to 13, following a weekend in which two occurred, Supt Stubbs said.
"This is abnormal," he added. "All of our efforts relating to enforcement and education are an ongoing process. We are back at the drawing board looking at other ways to force people to slow down and to remain stationary when accident happens."