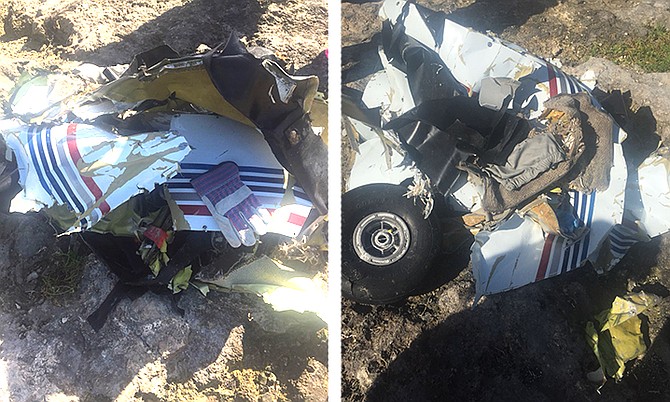 By RICARDO WELLS
Tribune Staff Reporter
rwells@tribunemedia.net
THE son of one of the North Andros plane crash victims has said the news that officials have found the debris field from the accident is the "latest and hardest" hit in a series of stunning blows.
Kermit Adderley Jr's mother, Margaret Adderley, was travelling to Nassau from Andros to see her newborn grandson when the ill-fated plane went down in the ocean. The 49-year-old mother of two was one of six people on board who died.
On Sunday, nearly six weeks after the incident, crash investigators confirmed a debris field discovered by fishermen in waters off Andros earlier this month was that of the plane that crashed.
"I am still working through the flight going down," Mr Adderley told The Tribune. "Now we have to go through this process hit by hit, with no one showing the people who died any respect."
According to Mr Adderley, crash investigators have not been forthcoming with information related to the incident.
He said family members have been left to comb through media reports and internet gossip to learn of any changes in the case.
"Every day it was something new if you listen to what people say out here and on sites. And that's what made it hard to deal with.
"It hurts more watching the news and reading things, not knowing what is what. Some people saying it (the found debris) was another plane from years ago and all that.
"You don't know what to go by and when you ask the government people, they don't know nothing or then didn't want to tell us," he said.
Mr Adderley said he was asked to give DNA samples shortly after the crash, however, was unaware if the request was made to help identify his mother's remains.
"We did what they ask. They wanted DNA, I gave that. We were back and forth for two weeks with that. No time to grieve.
"We coming up on six weeks now. We hearing about remains, skeletons; body parts. Government people still ain't saying nothing. What are we to do?"
The Tribune understands that none of the families involved has been able to carry out funeral arrangements - all waiting for officials to confirm if any remains were found.
Mr Adderley said: "We started making up funeral arrangements, doing an obituary, that sort of stuff; now this. Now we are back at square one.
"We don't know if we getting remains or be left in the dark again. We are hurting.
"I don't know where it went wrong or who went wrong, but it's hurtful, they are acting like these people were just toys out there."
In addition to Mrs Adderley, Desiree Shaneig Russell and her young daughter Destinique Wilson; Carter Campbell, a local store owner; Valentino Knowles and Captain Darren Clarke died in the January 17 crash.
Since the incident, officials have revealed the pilot lacked the required licences to charter flights.
Investigators also believe weather may have played a role in the crash.
The Bahamas Civil Aviation Authority has, in the wake of the crash, pledged to clamp down on illegal charter operations by embracing technology, involving law enforcement and increasing surveillance to identify and prosecute law-breakers in the aviation industry.