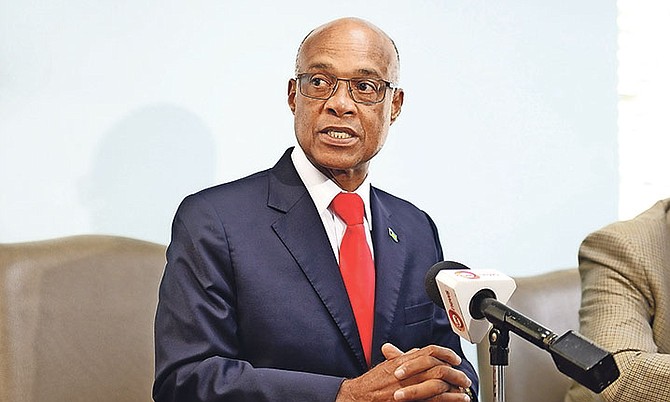 By Ava Turnquest
Tribune Chief Reporter
aturnquest@tribunemedia.net
WEST Grand Bahama and Bimini public educators are moving to eliminate corporal punishment within schools, a move The Tribune was told is part of a wider effort to stamp out the practice nationally.
Ministry of Education District Superintendent Ivan Butler confirmed to The Tribune the practice may be fully discontinued within his district before the end of the current school year.
"Our present minister is totally against corporal punishment," Mr Butler said.
"We have been weaning and I can speak specifically for the West Grand Bahama district, we are eliminating. We have made a conscious decision to take corporal punishment out of the school. Very few students are being administered corporal punishment, and we feel even as early as Easter we will remove it.
"For now most of the principals are aware corporal punishment is not the best method. As for my district, we are eliminating."
Mr Butler spoke to The Tribune as part of its investigation into a viral video circulated on social media on Sunday, which purported to document a young child screaming in agony from complications stemming from an alleged beating by a school administrator.
The decision to remove the practice of corporal punishment from public schools was not said to be connected to that matter, or the subsequent allegations.
The Tribune spoke with the child's mother, 29-year-old Erinique Walkin, who said her son, Gregory Haley, was beaten on his back by a West Grand Bahama school administrator nearly two years ago when he was six years old.
The viral video, however, does not depict her son immediately after the incident but purports to show the severity of chronic pain episodes Gregory began to experience in later months.
The incident took place on May 9, 2016, according to a document signed by Superintendent Wendall Deveaux, officer-in-charge of the Eight Mile Rock police station.
Since then Ms Walkin said her son experiences chronic pain episodes that no longer afflict his back where he was allegedly hit three times by the school administrator, but all over his body.
"He has pain everywhere," Ms Walkin said when contacted by The Tribune after a video of Gregory screaming in a bathtub as his father attempts to soothe him, was posted on a Facebook page and received more than 100 shares and comments on Sunday.
"It's not just his back anymore, sometimes it's his neck, his arms, his feet, his penis, his butt, anywhere. The slightest touch could set him off."
Ms Walkin said pain medications have been ineffective, and she has to use guided meditation to help her child take his focus off the discomfort.
In a more recent video sent to The Tribune, Gregory could be seen laying on the floor groaning, and apparently grinding his teeth, with tears streaming down the side of his face.
"Yesterday he couldn't hear for a whole hour," Ms Walkin said, "he kept telling me 'mommy I can't hear, I can't hear.' Everyday it's something different, I'm so stressed out, I been to the clinic so much times. How can I be comfortable when people tell me nothing wrong and my child in pain?"
Among Facebook comments on Sunday was Minister of Education Jeffrey Lloyd, who appealed for the parents of the child in the video to immediately contact the Ministry of Education. He said that he would be investigating the matter "right away".
However, The Tribune has confirmed the ministry is fully aware of the matter, and paid for Gregory's MRI scan in November last year.
Ms Walkin claims she spoke with Mr Lloyd over the phone, but never met with him face-to-face. She said she began posting videos of Gregory in a bid to get the government's attention, noting the viral surge came after she reached out to an American-based Facebook page.
"One day he came from school complaining of back pain," Ms Walkin said, "he kept saying his back hurting, I ignore it couple times after he keep saying it I say let me ask him what's going on. He told me his teacher beat him on his back and I started to ask him what he did but then I catch myself like never mind what you do nobody supposed to be beating you on your back. He said she put him across her lap and beat him on his back with a ruler. I took him to the clinic immediately. The doctor said it was child abuse, she was supposed to call social services, she never did.
"I went the following morning to the police station and I told them what went down, they try to talk me out of pressing charges against her. At the time I'm trying to be a Christian so I say let me hear her out. His back was tender and swollen, me and my mom were escorted to school with two officers."
Ms Walkin alleged she spoke with the teacher, who admitted to beating Gregory because he was misbehaving and that she did not intend to do it so severely.
"My son stopped her and he said 'no, I wasn't misbehaving you told us to lay down on the desk and I raise up my head and tell you I wanted to use the bathroom, and you take me to your office, put me across your lap and beat me.'"
Ms Walkin admitted she told the police she would not press charges against the teacher because she accepted her apology as sincere, and was also not aware of the full extent of the damage allegedly inflicted on her son.
It would not be until months later when roughhousing with his older sister that Gregory would experience a debilitating pain that would require paramedics to transport him to hospital.
"They kept saying they don't see nothing wrong. They asked me about my daughter asking is she a big child, how could she have hurt him like this? They thought I was lying, they felt like I abused him. He made about 10 to 11 trips to emergency room over and over in the space of five months. They kept doing X-ray after X-ray."
Ms Walkin moved to Crooked Island in February last year, and relocated her children in August. She said Gregory was pain free for a few weeks during the summer, but the chronic episodes resumed. At a clinic in Crooked Island, medical staff suggested obtaining an MRI scan; however, Ms Walkin said she could not afford it.
She expressed gratitude to Mr Butler, who authorised payment for the scan, stating the district superintendent was the only official who responded to her cries.
However, the government only paid for the costs of the scan, not a specialist to analyse the results, Ms Walkin said.
She told The Tribune she still doesn't have a formal medical report, just the advice of a doctor who read the report at the urging of her relative who worked in his office.
Yesterday, Mr Butler confirmed the ministry paid for Gregory's MRI scan, but noted it would not be rendering further assistance due to its findings, which he did not disclose.
"From the result of the MRI we feel it isn't the result of a spanking he may have gotten," Mr Butler said.
"We feel the mother is in need of assistance, we are not convinced its (Ministry of) Education. We think maybe Social Services may be the best person to assist her with that."
Mr Butler noted the severity of backlash on social media towards public educators was "disturbing".
"It's giving our hard-working teachers and committed dedicated teachers a bad rap. Our focus as teachers, we are committed to giving best we have to offer. It's a bit disturbing," he said.
"We would recommend her to Social Services. We do sympathise, and we now know thanks to the same school, we know exactly what is wrong with her son now. Had it not been for that school the boy may have still been experiencing challenges. The school cannot assist any further with that."
On Monday, Ms Walkin told The Tribune she had been contacted by a senior government official as a result of the viral video, who assured her that some assistance would be rendered.
In response to Facebook commenters asking whether there was a portal for online donations to Gregory's medical fund on Sunday, Ms Walkin replied: "No I don't have a GoFundMe page. Ya need an American or Canadian account to do that. And here in Crooked Island, we only have the post office here, no banks."
When asked her thoughts on corporal punishment, Ms Walkin said: "Even if they beat I don't mind, but beat on the hip, I used to get beat on calf, or my hands, you don't put children across your lap and hit them on his back.
"I went through all the procedures, I went to Social Services, I been trying to do the right thing," she told The Tribune.