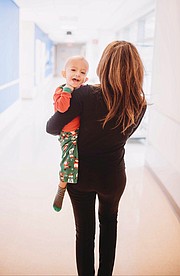 Funeral services for two-year-old Aidan Roger Dupuch Carron, who died in Baltimore, Maryland, on the morning of Christmas Eve will be held at 3pm on Friday at St Anslem's Catholic Church, Fox Hill.
Aidan, the only child of Mr and Mrs Robert Dupuch Carron, born a health baby, spent 515 days of his life in US hospitals battling therapy related leukaemia.
Funeral services will be conducted by Fr Anslem Russell, pastor of Sacred Heart Church, assisted by Fr Noel Clarke, pastor of St Anslem's Church.
Interment will follow in the eastern cemetery adjacent to St Matthew's Church on Shirley Street.
In lieu of flowers, the family has asked for donations to be made to the John Hopkins Childrens Hospital Oncology/BMT research or to the Aidan Roger Carron Children's Foundation in Nassau.
More like this story