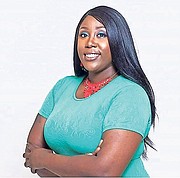 By ALESHA CADET
Tribune Features Reporter
acadet@tribunemedia.net
AIMING to use her growing platform for the greater good, Bahamian comedienne Frecinda "Cindy" Mullings believes that combining colloquialism with comedy to create entertaining, educating and engaging content is how she will evoke social change in the country.
To this end, she created the "Cindy The Creative" brand. As part of the brand, she posts videos to her Facebook page which explore lesser publicised Bahamian stereotypes, and not just the usual "jonsa" and "jungaless".
"I wanted to show that we are a proud people. We are intelligent with strong social, political and cultural views. Our perspectives on life vary, but we are bound together in many ways. Wherever Bahamians find themselves in the world, we are still connected," she said.
For her latest endeavour to help bring about social change, Cindy chose to host her first annual 'Christmas Jamboree' this holiday season.
Held in honour of and at the Children's Emergency Hostel on McKinney Drive, the event attracted many guests who made donations of toys, clothes, food items and gifts - all in support of the childcare facility. Highlights included a fun day of musical chairs, a piñata game, face painting, and more.
The Children's Emergency Hostel, established in 1970, is a short-term residential home with the sole purpose of providing temporary accommodation, food, clothing, medical care and other necessities to abandoned and neglected children until more permanent arrangements can be made.
"As cliché as it may sound, the children are the future. We need to take a personal interest in the children within our community in guiding them and imparting knowledge onto them. As a united front to create a better Bahamas we can start as simple as hosting a small party for a group of kids," Cindy told Tribune Woman.
"This is important to me because I plan to implement many other initiatives throughout my entertainment career. I want to use my platform to make a difference in people's lives."
Since starting the Cindy The Creative brand in March last year with the launch of comedy content and a sketch web series, one of Cindy's main goals has been to give back to the community in the best way she can. Her particular passion lies with helping and impacting the lives of children of all ages.
"Choosing to host the event at the Bahamas Children's Emergency Hostel was without hesitation. Seeing as this home is a charitable non-profit organisation, it strives on donations and fundraising. My event is powered by REV as well as my own personal funding in conjunction with the selfless donations of others. This event is mainly for kids, so the party is entirely for their enjoyment. The room is decorated and the Christmas tree is stocked with gifts. There is food, drinks, party favours and more," said Cindy.
She expressed joy at having the jamboree's patrons meet the home's children as well as the volunteers, as this brought awareness to the event's main focus - helping others and ending the year on a positive note.
"It is our moral responsibility to contribute to our communities, whether as a public figure or not. We also don't need to wait until the holidays to give back. I'm hoping that many others will want to help next year, in any endeavours that I host for children and young adults, whether by corporate or individual sponsorship. I also hope that by shining a light on the home more people will want to get involved," said Cindy.