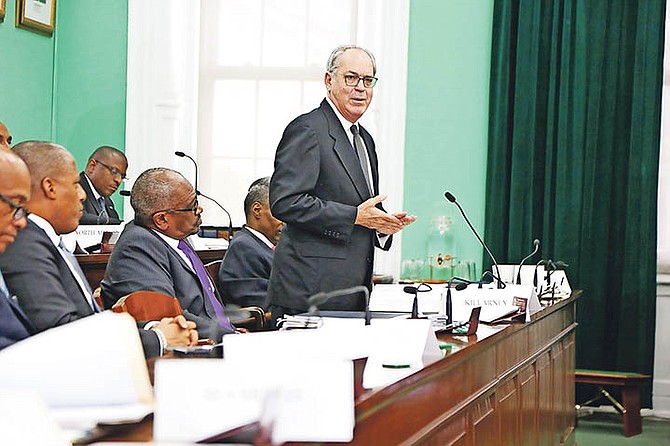 By KHRISNA RUSSELL
Deputy Chief Reporter
krussell@tribunemedia.net
EMPLOYERS in the country have the remainder of this week to send all illegal employees home, Immigration Minister Brent Symonette warned yesterday as he signalled the Minnis administration's "aggressive" campaign to clamp down on private businesses in the coming days.
Anyone found employing illegal migrants will face a cash fine and criminal sentencing before the courts, Mr Symonette continued.
In the aftermath of the government's December 31 deadline for all illegal immigrants to leave the country voluntarily or face aggressive pursuit and deportation, Mr Symonette said there are also plans to make the penalties for those who break the law more stringent.
"So we'll continue aggressively this year starting on every nationality who is here," Mr Symonette said yesterday ahead of the morning session of Cabinet. "Those persons from whichever country they came from who have not regularised themselves have had their time to regularise themselves and the natural consequences will flow."
"As I announced on January 1, we are also going to enforce a rule that is on the books that employers who employ persons illegally will also be prosecuted. Up to now we have tended to not deal with that so now for instance (this applies to) building sites (and) business houses so on and so forth. Those owners should make sure that this week they send those persons home or else they face a fine and criminal sentence.
"We talk about criminal sentences and a lot of people take this very lightly but you know when you go to get your US visa and you have a criminal record, we all know what happens. "So I really implore employers to ensure that they take this seriously because it will be a new issue."
He added: "On another point, we are looking at and we probably will later this year increase the penalties for employers hiring illegal immigrants and that'll follow. I will say at this point that this is not targeted at any particular nationality, it is targeted across the board. So whether you're a banker or a gardener, a landscaper, whatever industry you're in will be targeted right across the board."
However, those who have begun the process to regularise employees have nothing to fear, once the receipt of this process is presented, he said.
He said the government will also look at ways to beef up detecting repeat offenders, meaning those who repeatedly enter the country illegally despite deportation.
"We are going to look at that too, the whole question of fingerprinting. We are investigating the whole question of footprints, footprints of persons at birth and when the new computer system comes on track at immigration we'll have hand held computers whereby you can check that."
Mr Symonette also clarified misconceptions of the government's immigration policy.
"Let's correct something I think we said the other day about policy. There's no new policy. The policy and the law has always been in effect for years, that to be in the Bahamas you have to be in the Bahamas legally.
"The difference that the prime minister announced is we are not going to tolerate persons who are here illegally, so, ie, persons who are breaking the law have the opportunity to regularise themselves or the full effect of the law will happen.
"We are now on January 2, 2018. Between Christmas and New Year's there were several apprehensions the Friday before New Year's. We repatriated 114 nationals back to Haiti and it's interesting to know that in the first sort of couple months we deported 2,800 nationals and 2,500 of them were deported to Haiti.
"So that gives you an idea as to the numbers that we had. Between Christmas and New Year's, we had 13 Ecuadorians and one Jamaican apprehended, which is an interesting new trend where we are getting persons from South America. We are getting a lot of people from Africa so in terms of the bulk of people that are apprehended on the water they're mainly Haitian nationals and other persons come up to get into America."
The Royal Bahamas Defence Force apprehended nearly 100 illegal migrants in three separate incidents over the holiday weekend.
In the first incident, RBDF officers caught 76 Haitian migrants on Saturday in waters near the Exuma chain. This was the third group of Haitians to be captured in The Bahamas in recent weeks.
Also on Saturday, officers took six undocumented immigrants into custody after they were discovered at a local resort on North Bimini. Hours later, early on Sunday morning, nine foreign nationals were turned over to a RBDF patrol craft by a tanker off Grand Bahama.
The RBDF said the latest apprehensions came as it continues to unfold its coastal and maritime security strategies to interdict people engaged in drug, human, gun and wildlife smuggling, in addition to poaching of marine resources by local and foreign fishermen along with a recent increase in boat theft.
According to the head of the Department of Immigration's Enforcement Unit, Kirklyn Neely, the Department of Immigration deported nearly 7,000 people in 2017.
The Department of Immigration intensified its apprehension efforts in November after a large empty sloop was discovered on the shoreline of Adelaide Beach. Officials believe dozens of undocumented migrants were on board that sloop and had help evading capture.