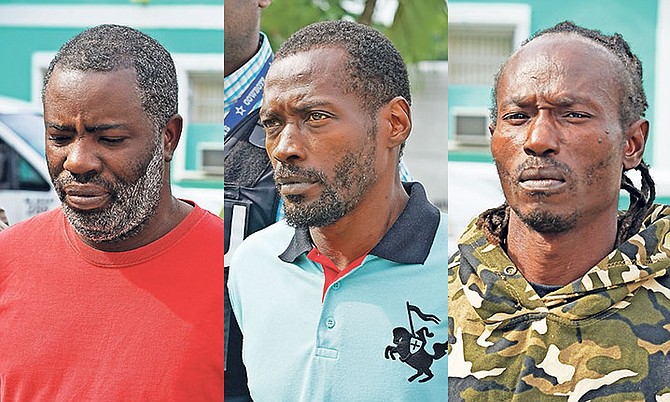 By NICO SCAVELLA
Tribune Staff Reporter
nscavella@tribunemedia.net
TWO Bahamian men and a Jamaican national were arraigned in a Magistrate's Court yesterday in connection with a million-dollar drug bust that took place in waters off South Andros last week.
Valentino Carey, 41, Dwayne Forbes, 45, and 47-year-old Donovan Hart of St Catherine, Jamaica, stood before Magistrate Samuel McKinney on several drug related charges stemming from the December 28 drug seizure off Mangrove Cay.
It is alleged on that day, in waters off Mangrove Cay and being concerned together, they were found in possession of a quantity of marijuana and imported the drugs into the country.
It is further alleged that between December 6 and December 28, the three men conspired to possess dangerous drugs with intent to supply and also conspired to import dangerous drugs.
Both Carey and Forbes entered not guilty pleas to all of the charges. Hart, after expressing his desire to not waste the court's time, pleaded guilty to all of the charges, resulting in the prosecution reading a summary of the facts.
According to reports, on the day in question officers from the Drug Enforcement Unit (DEU) received certain information of suspected marijuana in the Mangrove Cay area. Subsequent to acting on this information, and while near Mangrove Cay, officers observed a gray and blue go-fast vessel with three males on board.
They also noticed another vessel adjacent to the go-fast vessel.
As officers approached the vessels in question, one of the males jumped from the go-fast vessel into the water, while the go-fast vessel sped off. Officers gave a brief chase, but eventually caught up with and boarded the go-fast vessel and encountered two of the three males, one of whom was Hart.
A search of Hart's person proved negative, according to the prosecution. However, upon searching various compartments of the go-fast vessel, officers discovered some 55 sacks of suspected marijuana.
The drugs weighed 1,606 pounds and have an estimated street value of $1,606,000.
The third male was eventually retrieved from the water, the marijuana was seized, and the three men were arrested and cautioned.
When interviewed by DEU officers, Hart said while he was in Jamaica he spoke to a man he only knows as "Garfield" who told him about the boat in question, and that he could catch a ride on that vessel to an unspecified location. The prosecution alleged that on December 27, Hart said he and another Jamaican national, along with two to three Bahamians, one of whom was Carey, boarded the go-fast vessel.
Upon doing so, the prosecution claimed Hart said he noticed it was stocked with suspected marijuana.
The vessel eventually made its way into Bahamian waters, where it encountered engine difficulties on two separate occasions. On the latter occasion on December 28, they were assisted by individuals aboard two white boats, and it was on one of those boats some of the marijuana was offloaded.
It would be later on that day when police would intercept the boat the three men were on and subsequently arrest them.
However, Hart insisted that he did not agree with all of the facts outlined in the prosecution's summary. He maintained that he did not know drugs were on the boat, and when he first got on the boat, it was already ready to leave.
Hart also maintained that nothing of a suspicious nature was visible to him, and that it was the first time he would have met the other persons on board.
Magistrate McKinney subsequently stated he would not be able to accept Hart's guilty pleas and consequently convict him after hearing him express that he was unaware that the drugs were on board the vessel in question.
He subsequently adjourned the matter to February 26 and 27 for trial. The three men were remanded into custody in the interim.
More like this story