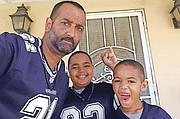 By INIGO 'NAUGHTY' ZENICAZELAYA
I MAY not have repeated as the Tribune's NFL Picks Champion, but at least the trophy is staying in the family!
Ah these 'millenials,' congratulations to my
10-year-old son Santxo, who is this year's champion.
Running me down, and holding off a furious late charge by Leo B and Clint J to win it all in the process.
I must say I'm extremly proud of him, he did his research all season, and rode the Bills, Rams and 49ers when nobody else did, and unlike his dad he knows when not to pick our Cowboys!!
Congratulations Santxo, dad is very proud of you and I love you, even if you beat me.
Now it's time for the playoffs and the 'Champ' and I, along with Leo B will go at it again, for the NFL Playoffs. • Here's who we like in the Wild Card Games
Santxo "The Champ"
AFC
JAGS 31- BILLS 17
CHIEFS 31 - TITANS 20
Naughty
AFC
JAGS. 24 - BILLS 10
CHIEFS. 31 - TITANS 17
NFC
RAMS 34- FALCONS 17
SAINTS 24 -
PANTHERS 23
Leo B.
AFC
Jags over the Bills 21-7
Chiefs over Titans 28-10
NFC
Rams over Falcons 31-17
Saints top Panthers21-15