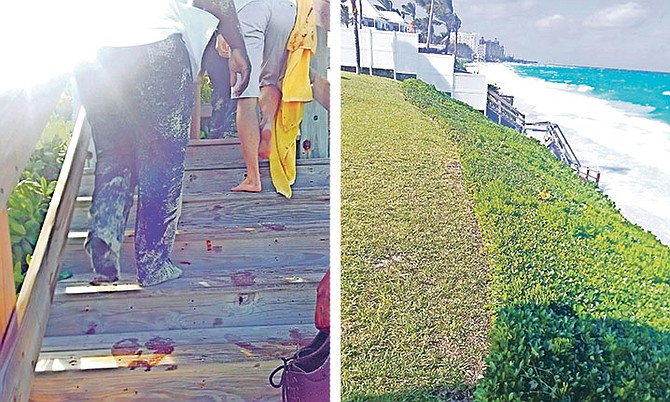 By Jeffrey Butler
A French tourist had a lucky escape yesterday when the stairs of the public beach access on Cabbage Beach collapsed as he stepped onto it.
The stairway - the only public access to the beach - had been pounded by heavy surf blown up by the cold front which has hit the island over the last few days.
The French tourist, a man in his 50s, was trying to get on to the beach to take a closer look at the surf and washed-away sands when the steps collapsed beneath him, hurling him on to rocks seven feet below.
His wife and children looked on helplessly as the man - unable to move - started being dragged into the ocean by the crashing waves.
Luckily employees of neighbouring properties rushed out to help and clambered down on to the beach to help drag him back to safety.
He was carried back through the broken stairway having suffered cuts to his face, back and legs before emergency services arrived to treat him.