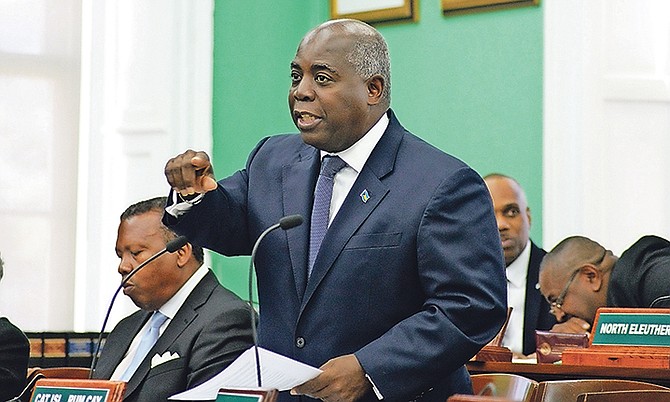 By AVA TURNQUEST
Tribune Chief Reporter
aturnquest@tribunemedia.net
OFFICIAL Opposition Leader Philip Davis yesterday vowed to uphold the Progressive Liberal Party's (PLP) legacy of majority rule as inextricable from the country's history.
Mr Davis underscored the present government was indebted to the progress forged by the PLP's 1967 general election win, during remarks at a Majority Rule Day service at Agape International.
However, he acknowledged the day did not belong to just one party, but to all Bahamians.
"These memories seem all far and distant but with many around us today who are trying to turn back the tide we have an obligation to remind the young that what we have today did not always exist in the way it does today," Mr Davis said.
"These stories must be told and embraced by a new generation so that they become their own."
"The PLP has been too tentative about telling its story," he continued.
"Under my leadership, I do not intend for this to continue. I intend to tell who we are and how we came to be where we are. Let us never forget. They tell us that those who forget their history are doomed to repeat it."
"I remind today's government that they are where they are because of January 10, 1967."
He continued: "The names of the victorious PLP candidates of the general of election of 1967 were: Lynden Pindling, leader, Preston Albury, Clarence Bain, Milo Bulter, Clifford Darling, Elwood Donaldson, Arthur Foulkes, Carlton Francis, Arthur Hanna, Warren Levarity, Curtis MacMillan, Uriah McPhee, Maurice Moore, Edmund Moxey, Jimmy Shepherd, George Thompson, Jeffrey Thompson and Cecil Wallace Whitfield.
"I look forward to the day when this holiday and these celebrations will be embraced and accepted for what they truly are by all Bahamians. This day belongs not to one party but to all Bahamians," he added.
The government has announced that a Majority Rule Day church service will be held 10am Wednesday at St Francis Xavier Cathedral on West Street. Majority Rule Day became a national holiday in 2014. It commemorates the Bahamas gaining majority rule for the first time on January 10, 1967.
On that day both the PLP and the United Bahamian Party (UBP) won 18 parliamentary seats during the general election, with the remaining two going to Randol Fawkes, of the Labour Party, and Alvin Braynen, an Independent.
Mr Fawkes sided with the PLP, helping the party to form the first black-led government. Mr Braynen became speaker of the House.