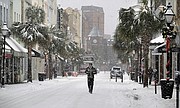 By AVA TURNQUEST
Tribune Chief Reporter
aturnquest@tribunemedia.net
THE intense winter storm known as the "bomb cyclone" ripping through the US East Coast battered a ship carrying some 4,000 passengers on a return trip from the Bahamas.
Norwegian Cruise Line passengers recounted their harrowing experiences of flooding and chaos aboard the luxury cruise liner as it sailed directly into the storm last Thursday.
The ship was forced to turn back, delaying their arrival in New York.
"During the early morning hours of January 4," an NCL press statement read, "Norwegian Breakaway encountered stronger than forecasted weather conditions due to winter storm Grayson during the trip's return to New York from The Bahamas. All guests and crew are safe. We sincerely apologise to our guests for these stronger than expected weather conditions and any resulting discomfort they may have experienced."
CBS News interviewed the Ross family of Stony Brook, New York about their two-day ordeal on Friday.
The family had taken the cruise to celebrate the 80th birthday of a family patriarch, with 21 family members on board.
They told of a harrowing ordeal of oceans swells up to 30ft with water seeping through ceilings, a flooded deck, and panic and seasickness gripping passengers.
Karoline Ross said it was the scariest, worst moment of her life.
'When you're on a boat in the middle of the ocean and water is pouring down the stairs, you're thinking 'this is not going to end well,' Karoline said.
'Our room was full on two inches of water. The elevator shafts were dripping water everywhere,' Del said.

As water began seeping through the ceilings and flooding the deck, a wave of panic and seasickness gripped passengers, some taking to social media to document their horrific experience.
'There were people crying, everyone was throwing up. it was a nightmare,' said Olivia Ross. 'It was so tilted I was shaking."

Fellow passenger Emma Franzese told CBS New York once the ship docked: "I'm completely traumatized. I'll never go on any type of boat again in my life after this. I was holding on for dear life. I honestly wasn't sure we were going to make it through the night. The boat was tilted like crazy.".
Another passenger Barbara Stevenson-Felder questioned why the cruise line didn't cut the trip short rather than attempting to go through the storm.
Olivia Ross said: "There were people crying, everyone was throwing up, it was a nightmare. I'm completely traumatised. I'll never go on any type of boat again in my life after this."