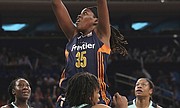 By RENALDO DORSETT
Tribune Sports Reporter
rdorsett@tribunemedia.net
JONQUEL Jones - the WNBA's most improved player, went head-to-head with the league's reigning MVP Sylvia Fowles as the pair are playing in the Women's Chinese Basketball Association during the offseason.
Jones finished with 31 points, 17 rebounds, five assists and two blocked shots, but her Shanxi Xing Rui suffered a 96-92 loss to Fowles and the Beijing Great Wall.
Fowles, the Minnesota Lynx perennial All-Star, finished with 32 points, 13 rebounds and two blocks.
Both Jones and Fowles finished with 20 double doubles over the course of the WNBA season.
The loss ended a six-game winning streak for Xing Rui as they fell to 15-6 but remain in fourth place in the league standings.
Beijing Wall Great Wall won their seventh game in a row and remain tops in the league.
Jones is currently averaging 29.1 points and 14.1 and 68 per cent for the Flame.
Led by Jones, Shanxi XR has been the second ranked scoring team at 84.8 points per game and second ranked assist team at 15.8 per game and tops in rebounding at 37.9 boards per game.
The WCBA is the top-tier professional women's basketball league in China and is the women's counterpart to the Chinese Basketball Association.
The 2017-18 WCBA will include a 26-round regular season and playoffs, as well as All-Star weekend on January 20, 2018.
The league expanded by two clubs this year to bring the total number of teams to 14. The top eight teams will advance to the playoffs.
Jones' last offseason propelled her into becoming the WNBA's Most Improved Player, an All-Star and an All-WNBA Second Team selection, leaving fans and pundits eager to see what this offseason will bring.
Jones was selected No. 5 overall by Woori Bank in the Korean Basketball League and led the team to a championship title. On the season she averaged 15.8 points, 14.3 rebounds and 2.8 blocks - all team leads - in 24 minutes per game for Woori Bank in 38 games.
At the league's award ceremony, Jones earned the Foreign Most Valuable Player Award, Defensive Player of the Year award and was named "Best Five" in the league.
Jones finished the year averaging 15.5 points and 11.9 rebounds per game - a dramatic increase from her rookie season when she averaged 6.8 points and 3.7 rebounds per game.